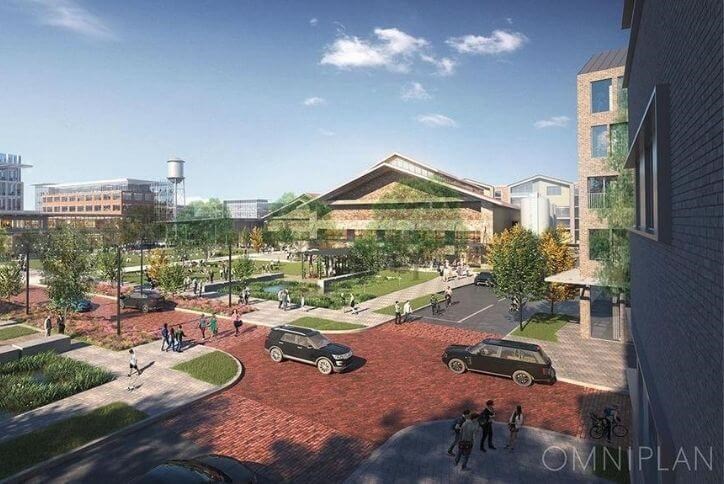 New shopping and restaurants coming soon near The Grove Frisco
At The Grove Frisco, we call our location the "Four Corners" because it's where our hometown of Frisco meets the borders of three dynamic neighboring cities – Allen, McKinney and Plano.
Until recently, Allen has been a little more laidback and a little less developed than our other Four Corners cities. That's changing with the announcement of The Farm in Allen, a 135-acre mixed-use development that will bring more shopping, dining and entertainment options to the SH 121 (Sam Rayburn Tollway) corridor.
Located about four miles from The Grove Frisco, The Farm in Allen will include a 2.5-acre lake with a boardwalk lined with 60,000 square feet of restaurants. The development is also planned to include 142,000 square feet of retail, a 150-room hotel, and over 1.6 million square feet of office space.
Nature will be a major component of The Farm in Allen, which will include a 16-acre greenbelt along Watters Creek and more than two miles of trails that will be integrated into the City of Allen trail system.
"The Farm in Allen is a unique mixed-used development that really captures the story of Allen's continued growth. Just as this farmland served generations of families before us, it will transform into a modern urban center to serve many generations to follow. We are excited to see this project enhance the 121 corridor," said Allen Mayor Debbie Stout.
The Farm in Allen is located at the northeast corner of Alma Drive and Ridgeview Drive, just south of SH 121. According to Google Maps, this development is an 11-minute drive from Orchard House, The Grove Frisco's flagship amenity, via Custer Road and SH 121.
Groundbreaking is planned for late 2020.
The Avenue and Hub 121 also coming to Allen, McKinney
In early 2020, an 80-acre mixed-use development called The Avenue was announced for the corner of SH 121 and Alma Road in Allen.
The Avenue is planned to include an outdoor plaza with a food hall and water features. It will also have one million square feet of office space and 275,000 square feet of retail, restaurant and entertainment attractions.
A late 2020 groundbreaking is planned for The Avenue, which is located across SH 121 from McKinney's Hub 121 mixed-use development.
Planned to open in early 2021, Hub 121 is described as "McKinney's newest home for destination shopping, chef-driven dining, craft beer brewing, and live music and entertainment."
Learn more about The Grove Frisco's unsurpassed Four Corners location.