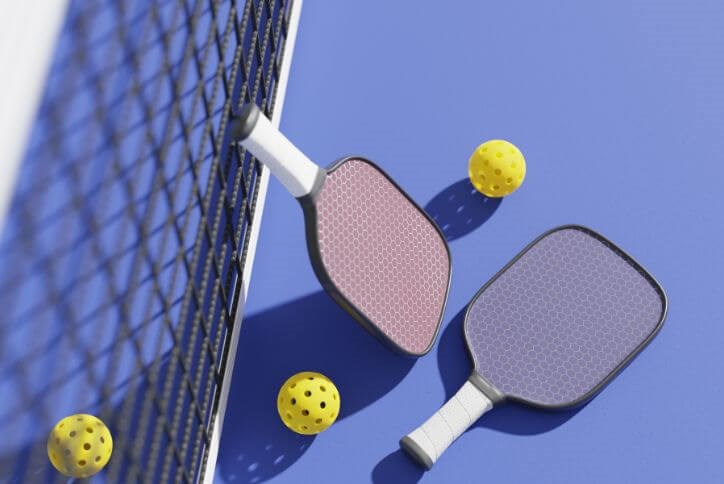 A guide to pickleball in Frisco, Sports City USA
Millions of people nationwide are loving pickleball, with some estimates as high as 36 million people now playing this fast-paced racquet sport.
The appeal of pickleball is no surprise. Described as a cross between tennis, badminton and table tennis, pickleball offers a full-body aerobic exercise that also challenges the mind. It's easy on the joints, making it appealing for players of all ages. It's also a great way to meet new people and make friends.
Frisco, already Sports City USA, is going all in on pickleball, with the Frisco Panda professional pickleball team launched in 2023, and new private and public courts now open or coming soon.
Here's our guide to everything we know so far about new and future pickleball facilities and teams in Frisco, including right here in The Grove Frisco.
New pickleball courts and memberships
The city of Frisco now has 17 public pickleball courts ready for open play or by reservation, following a major expansion that added 12 new dual-purpose courts serving both pickleball and tennis.
Eight of the new courts are located at the Warren Sports Complex, 7599 Eldorado Parkway. The other four are at Shawnee Trail, 6501 Hillcrest Road.
"Frisco is a fast-growing community with an active lifestyle," Frisco Mayor Jeff Cheney said in a press release. "So, it's no surprise our residents are passionate about pickleball. Our residents have been asking for more courts for quite some time. These dual-purpose courts will help us meet our growing need."
Click here for more information on pickleball courts at Frisco parks, including hours, fees and reservation info.
Another new addition to Frisco's pickleball attractions is the Frisco Pickle Pickleball Club, a membership-based facility with 12 air-conditioned indoor courts. Annual membership plans are available for singles and couples. The pickleball club is part of the Frisco Flyers Sports & Event Center, a 50,000-square-foot multi-event center, home to the Frisco Flyers Volleyball Club.

Pickleball entertainment
One of the most exciting new pickleball facilities coming to Frisco will be Pickle and Social at Frisco Station, a mixed-use entertainment complex at Dallas North Tollway and Sam Rayburn Tollway, about 10 miles away from The Grove Frisco.
Planned to open in early 2025, Pickle and Social will have outdoor and indoor courts for players looking for a quick pick-up game with friends and family. It will also offer lessons, league play, tournaments, and a putting green for improving your game.
Rounding out the experience, Pickle and Social will have live entertainment and a restaurant with a chef-inspired menu and signature drinks. In addition to pickleball, they will also offer cornhole, beach volleyball and ping-pong.
The Picklr, a Utah-based company with indoor pickleball courts, has announced a major expansion plan for North Texas, but has not announced locations or opening dates yet.
Frisco Pandas pro pickleball
As Sports City USA, Frisco is home to professional sports teams like the Cowboys, Roughriders and Texas Legends. The Frisco Pandas major league pickleball team is the newest addition to Frisco's pro sports roster. One of 24 hometown pickleball teams in the nation, the Pandas were founded in 2023 by Dude Perfect, with the mission of combining a passion for competitive sports and the fun of pickleball.
Pickleball at The Grove Frisco
The Grove Frisco is also joining the pickleball craze with two new courts that will be available for residents to enjoy.
The first court opens in late 2023 as part of Shady Grove Park, a new community park located in the first phase of The Grove Frisco, south of Main Street.

Planning and development work is now underway for additional amenities north of Main Street, and additional pickleball courts are part of that proposed amenity package. We'll announce more details as soon as possible!