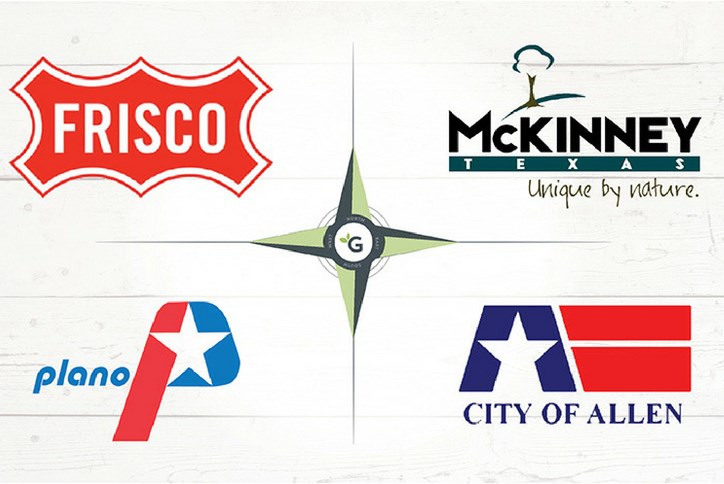 Our "Four Corners" location is a monument to a convenient, connected life
The "Four Corners" location of The Grove Frisco may not be as well-known as the Four Corners Monument where four Western states meet, but we have a lot more going on.
While the more famous monument is pretty much in the middle of nowhere, The Grove Frisco combines a prestigious Frisco address and Frisco ISD schools with a location where the four thriving Metroplex cities of Frisco, Plano, Allen and McKinney all come together.
This convenience connects residents to a wealth of world-class choices for working, shopping, dining, playing and more. It meshes perfectly with one of our cornerstone visions, to offer our residents the opportunity to live unhindered. After all, pursuing life to the fullest is possible when you live so close to the best jobs, schools, shopping and entertainment.
We're proud of all our Four Corners cities, each of which has a glowing rating from Niche and other organizations:
Frisco ranks No. 5 on Niche's Best Places to Live in the Dallas-Fort Worth Area list. Frisco has an overall Niche grade of A+, with an A+ for Public Schools, and A for Housing and an A+ for Good for Families. Among Frisco's many attractions, it's home to the famous $5 Billion Mile and 7 professional sports teams.
Plano lands No. 3 on Niche's Best Places to Live in the Dallas-Fort Worth Area list, with the same grade ratings as listed above for Frisco. One of Plano's most noteworthy new attractions is Legacy Hall, a major dining destination that's home to 22 chefs, food stalls and bars.
Allen ranked No. 2 on Money's Best Places to Live in the U.S. list for 2017. The magazine cited economic opportunities, recreation and top-notch schools among its reasons for naming Allen tops in Texas. Allen's $91 million convention center and hotel complex opens in 2018, part of billions of dollars worth of recent economic development.
McKinney ranks in the 99th percentile on AreaVibes' Livability Index, with an A for Amenities, an A+ for Education and an A for Employment. McKinney also gets an A+ overall grade from Niche. McKinney combines a modern cosmopolitan vibe with a historic, well-preserved 19th-century downtown filled with charming shops, cafes, craft breweries and farmers' markets.
Learn more about our Four Corners location and what's around with our Area Map.