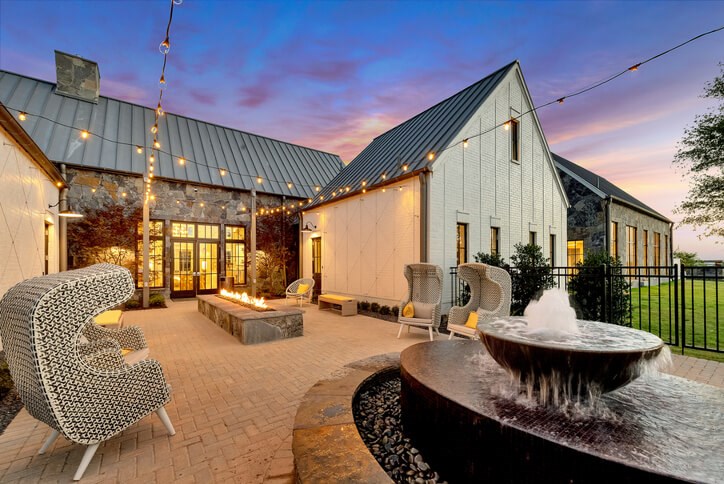 How industry awards can help your home buying decision
When about to make a major purchase decision, who doesn't appreciate hearing the experiences and opinions of trusted family and friends? That's especially true when choosing a new home and community – the largest investment most of us ever make.
If you could easily add recommendations from leading real estate experts to your personal tribe of family and friend advisors, would you? If your answer is "Yes," there's any easy way to tap into the vast collective experience of real estate experts who've spent hours shopping, analyzing and ultimately judging the newest offerings by planned community developers and homebuilders.
You can tap into this real estate brain trust and its exhaustive legwork by looking at recent awards given by respected publications and trade associations in your city. In the Metroplex, these include local organizations such as the Dallas Association of Builders, Dallas Business Journal and D CEO magazine. State and national organizations include the Texas Association of Builders and the National Association of Home Builders.
Each of these organizations holds an annual real estate awards competition. To decide the winners, they assemble panels of independent, third party judges in real estate and related fields, both from the local area and from out of town. To help ensure complete impartiality, the names of entrants are withheld during the judging process. For major awards, such as Community of the Year, it's common for judges to make site visits to tour the finalists, and sometimes interview the principals.
We're not suggesting that awards be your sole or most important criteria for choosing a new home or community. But in a huge geographic area such as the Metroplex, ranked second in the U.S. for new-home construction, awards can help you narrow vast choices down to the ones most meaningful to you. If you've already narrowed your choices and can't arrive at a decision, the judges' votes might help you break the stalemate.
When it comes to planned communities, awards can help you evaluate whether now is a good time to choose a certain one. If a community is near the end of its active development life, a major award can signal that the developer is still actively engaged and innovating, rather than just churning out the final phases.
If a community is relatively new, a major award such as Community of the Year can help you rest assured that professional judges have reviewed the master plan and version, examined the progress so far, and looked at the past track record of the developer. This can be helpful because while some buyers are eager early adopters, others prefer to wait a bit to see how things will shape up.
Opened in summer 2018, The Grove Frisco is one of the newest communities in the Metroplex, and our winning streak got longer in 2021. We've already won several major awards from leading industry organizations in our first few years, and these are some of our favorites:
Developer of the Year – Dallas Builders Association.  Newland-Brookfield, developer of The Grove Frisco, won the 2021 Developer of the Year award from the Dallas Builders Association. The judges noted how The Grove Frisco and its sister communities speak to the growing desire among homebuyers to find a community where they can be surrounded by nature and making meaningful connections with neighbors. With a 128 percent increase in home sales in 2020, The Grove Frisco's appeal to homebuyers speaks for itself.
Best Realtor Promotion – Dallas Builders Association. Also in 2021, our Grove Gives partnership with real estate agents won this category for its focus on giving back to the greater community. For every new home sold in The Grove Frisco, we donate $100 to one of 10 worthy North Texas nonprofits, to the recipient chosen by the sales agent. As our motto says, "It's our way of building a better community, together."
Best Planned Community – Dallas Business Journal. In selecting The Grove Frisco for its 2019 Best Planned Community award, DBJ cited our commitment to preserving the groves of mature trees that inspired our name. "One of the biggest challenges of creating a premier village consistent with The Grove Frisco's principles was determining how to relocate the undeveloped land's existing trees, with minimal environmental impact," the DBJ wrote. The judges were impressed by how The Grove Frisco preserved 25 acres for parks, trails and natural open space in our first phase, as part of a "modern village" of new homes and amenities.
Best Community Amenity – Dallas Builders Association. Orchard House, the modern farmhouse community center at the heart of The Grove Frisco, won the 2019 Best Community Amenity award from the Dallas Builders Association. As the flagship amenity for The Grove Frisco, Orchard House embodies our vision to be a connected, engaged community with amenities and programs that intentionally bring residents of all ages together for special events and everyday encounters.
Single-Family Development of the Year – D CEO Magazine. The Grove Frisco won the Single-Family Development of the Year award in D CEO's 2018 Residential Real Estate Awards. "In one of the hottest residential markets in the country, these North Texas communities and developers rise above their peers…as the most compelling new communities," D CEO wrote. "Nothing says 'putting down roots' more than buying a new home, and Newland Communities takes that concept to the next level at The Grove Frisco."
Single-Family Developer of the Year – D Magazine. Newland Communities, the developer of The Grove Frisco, received the Single-Family Developer of the Year award from D Magazine in late 2018. D Magazine aptly described Newland Communities as "the mixed-use development business of San Diego-based Newland Real Estate Group LLC, a diversified national real estate company that's sold more than 175,000 residential units to builders." In addition to The Grove Frisco, Newland Communities is also developing the Metroplex communities of Hollyhock in Frisco and Canyon Falls in Flower Mound.
A good way to see if The Grove Frisco deserves your personal best award is to visit and judge us for yourself.