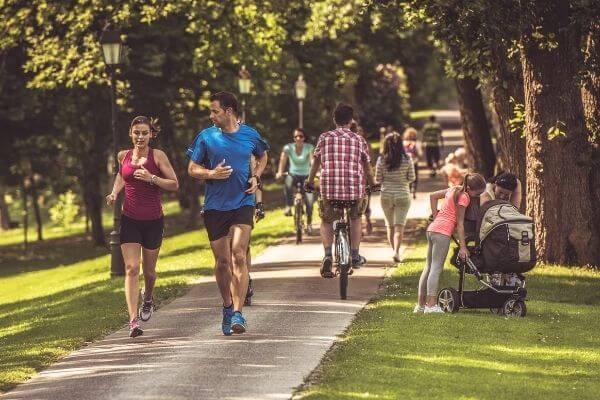 Frisco has an exciting vision for its two newest parks
Our hometown of Frisco is a city of parks – 49 to be exact.
That number will increase soon with two new parks that will include Frisco On The Green and Northwest Community Park, along with a future park that will be located right inside The Grove Frisco – more on that in a bit.
From iconic observation towers to slopestyle mountain bike tracks, Frisco's park planners are thinking outside of the box to envision some exciting new amenities for Frisco On The Green and Northwest Community Park.
Here's what we know so far about these two new parks, based on an information session held by Frisco at the end of April.
Frisco On The Green
Located on Teel Parkway, this 27-acre park is bisected by Panther Creek, with a wooded site includes a two-acre pond and a diverse wetlands area, with hilly topography that slopes down to the water.
Two of the most exciting elements of the proposed design include a boardwalk trail system and an iconic observation platform that would be suspended above the wooded and wetland areas. Due to its height, the platform would be a highly visible landmark from Teel Parkway and would provide an outdoor classroom and bird observation blind.
The park could also include a loop trail system meandering through native Blackland Prairie habitat and wooded upland areas.
More than 90 percent of the park site would be preserved for trails and natural open space.
Northwest Community Park
Mostly undeveloped until now, Northwest Community Park has long been a favorite with local bikers for its rugged network of mountain bike trails, built and maintained by the Dallas Off Road Bicycle Association.
The park site is located along Teel Parkway, adjacent to Lone Star High School and just north of Panther Creek Parkway.
The proposed design vision would transform this park into a regional destination for recreation and entertainment, complete with an iconic tower that could rise up to 40 feet. This tower would offer scenic views of PGA Frisco and other landmarks, but its most exhilarating purpose would be to feed bikes into the park's new gravity and flow trails.
The bike tower would be part of an overall trail system that would include a skills loop and pump track for users of all skill levels.
One vision for the park includes nearly 11 miles of trails overall, including 7 miles of dedicated single-track bike trails. Other trails would be for pedestrian use and shared bike/pedestrian activity.
Other proposed components include several playgrounds, an entry plaza with a pavilion and food truck court, and courts for pickleball and other games. The designers also envision a great lawn with a stage, a splash playground and a dog park.
Preserving nature will be a priority for this new park, which contains a five-acre pond and native Blackland Prairie habitat that planners estimate could be up to 500,000 years old.
Some of the natural components proposed include native gardens, a nature pavilion, rain gardens and picnic bosques.
As with Frisco On The Green, planners have created two design visions for Northwest Community Park.
One vision, called Destinations, calls for built amenities such as playgrounds, game courts and picnic areas to be scattered throughout the site and connected by trails.
The Hub vision calls for built amenities to be clustered in a centralized area.
Both visions are very similar in the variety of amenities they provide, but the Hub concept dedicates slightly more space to trails and open natural areas.
At Northwest Community Park, for example, the Hub approach would dedicate 85 percent of the site to natural areas, compared to 90 percent for the Destinations concept. 
Park planners estimate that the design and planning process will be finalized in the first half 2022, with construction taking the next 18 to 24 months to complete.
As for the new park coming to The Grove Frisco, not too much information has been announced, except that it will be a 7.6-acre amenity called Buffalo Ridge Park, reflecting the relatively high elevation of the site and the buffalo which once migrated through this area. 
We'll share more details about this new park as soon as they are available. Meanwhile, we have plenty of amenities for residents to enjoy, from Orchard House and Adventure Park, to Butterfly Park and the Gartner Bark Park, and much more.