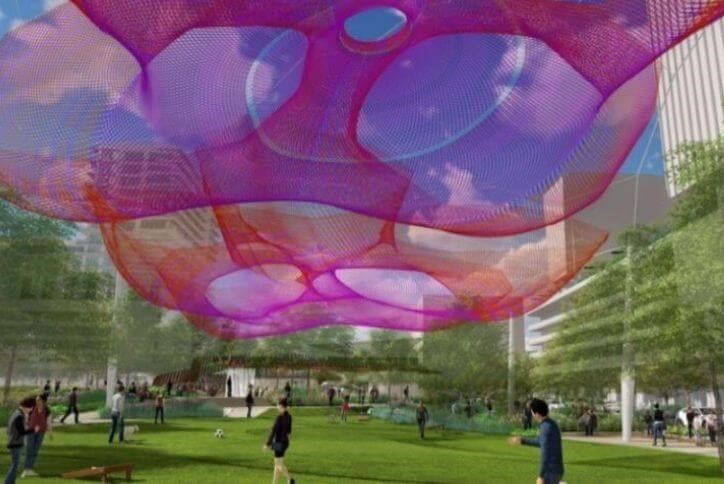 The latest on 8 great things now open or coming soon to Frisco
At The Grove Frisco, we're so proud of our hometown, it's part of our name.  Lately, it seems like so many exciting new developments are coming to Frisco, we had to make a list just to keep up.
From parks and arts, shopping and sports, these 8 new projects will enhance everything that already makes life great at The Grove Frisco. World-class higher education is also on the list. Read on to see when each is set to open.
H-E-B on every corner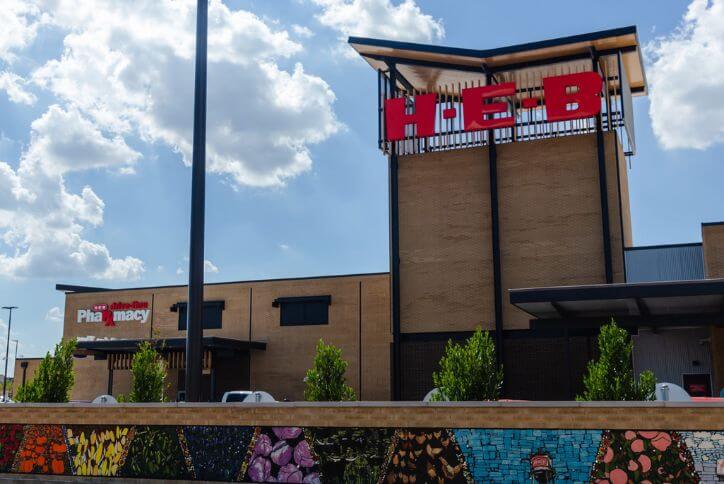 H-E-B, Texas' favorite grocery store, opened its first North Texas store this fall at Main and Legacy, located about 7 miles from The Grove Frisco. Some 1,500 shoppers waited in line, some as long as 12 hours, to be the first to get in to the new Frisco store. The store rang up record sales of $1 million on its first day. More H-E-B stores are open or coming soon to the Four Corners cities around The Grove Frisco. A Plano store has opened at 6001 Preston Rd. A new McKinney store is planned to open in Spring 2023, with a new Allen store opening in Summer 2023. 
UNT Frisco
The University of North Texas is on track to open its 100-acre Frisco branch campus at Panther Creek Parkway and Preston Road in Spring 2023. Called Frisco Landing, the building will be home to UNT's Project Design and Analysis degree, which will be one of about 27 undergraduate and master's level programs at the campus. Frisco Landing will have 29 classrooms and 69 "huddle rooms," which are smaller spaces available for collaborative learning. The 20-year master plan for UNT's Frisco campus calls for accommodating up to 20,000 students.  Here's a sneak peek of the campus from the Frisco Enterprise.
Kaleidoscope Park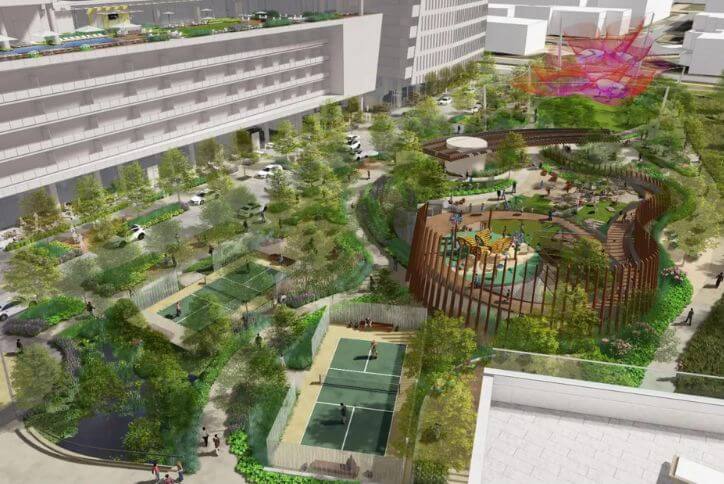 Kaleidoscope Park is the official name of a new community park opening in 2023 at Frisco's Hall Park development, located near the intersection of Dallas North Tollway and Warren Parkway. This 5.7-acre park is envisioned as an innovative and inclusive green space with free year-round events, including weekly films, concerts, performances, and fitness and well-being activities. Amenities will include a performance pavilion, children's play area, dog park, gardens, water features and public art. A total of $30 million is being invested into this new park, split evenly between the City of Frisco and Hall Group.
Grand Park's first trail opens Nov. 19
Big Bluestem Trail, the first amenity in Frisco's much-anticipated Grand Park, opens Nov. 19 with an inaugural walk along this unpaved 2.2-mile trail. It will be the first chance to get a look at Grand Park, which is larger than New York's Central Park. There will be much more to come for this 1,000-acre park, with the master plan vision calling for lakes, trails, public art, a performance stage, an arboretum, a festival hall, a kid's play area and wetlands. There will also be commercial components, such as restaurants and retail. Grand Park is located along the Dallas North Tollway at Cotton Gin Road, about 7 miles from The Grove Frisco.
Two more new parks
Frisco already has about 50 parks, and that number will increase by two with the opening of two very unique parks, Frisco On the Green and Northwest Community Park, both now in the design stages. Frisco On the Green will be a 27-acre park on a hilly, wooded site that includes a natural pond. It is envisioned as an "educational epicenter" with outdoor classroom space and boardwalks. Mountain biking will be a major activity for Northwest Community Park, where the vision calls for miles of trails and an observation platform for cyclists and pedestrians. It will also include several playgrounds, a great lawn, splash playground and dog park. About 85% of the park's 164 acres would be devoted to ecosystem restoration. Construction of both parks is expected to begin in spring 2023.
PGA Frisco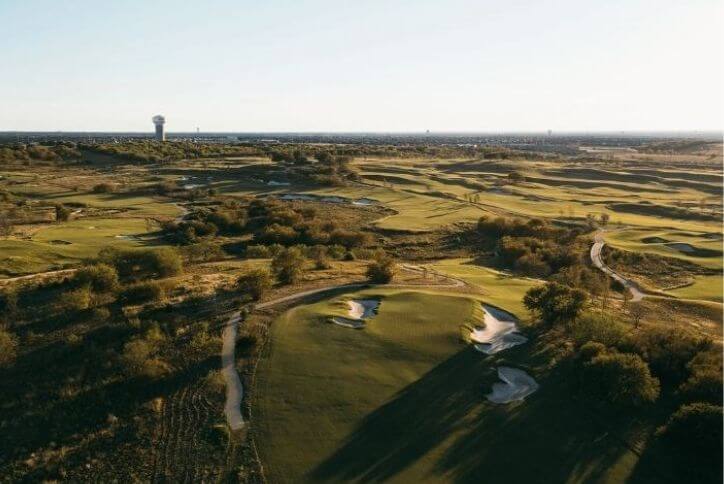 Scheduled for a Spring 2023 grand opening, almost every square inch of the breathtaking new PGA Frisco will be open to the public, including the huge Texas-sized putting green, called The Dance Floor; the 10-hole short course, called The Swing; and the stunningly beautiful championship 18-hole courses, The East and The Wests. The PGA District will also have nearly a dozen public eating, drinking and shopping establishments, plus a three-mile trail for walkers, pets and bikers. A 500-room Omni PGA Frisco Resort will also open in 2023. PGA Frisco is located at PGA Parkway (formerly a portion of Rockhill Parkway) and Legacy Drive, approximately 9 miles from The Grove Frisco.
Frisco Public Library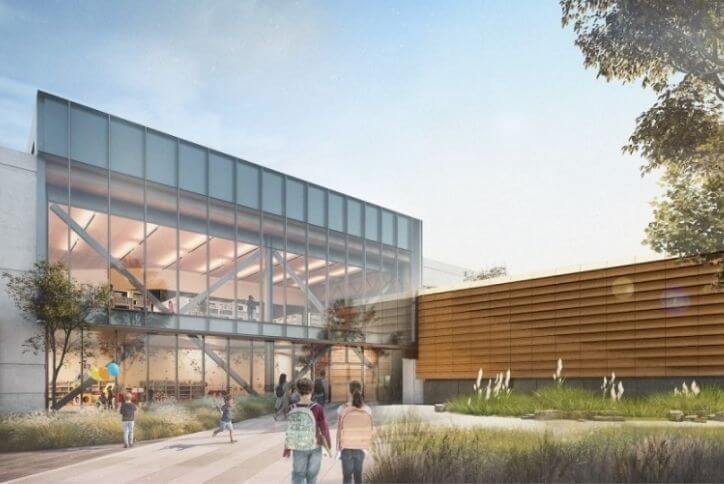 Located about 7 miles from The Grove Frisco, the new Frisco Public Library will transform a former rocket factory into jet fuel for readers and learners of all ages when it opens in late 2022. Inspired by the Blackland Prairie environment that surrounds Frisco, the main building will have two entries connected by an interior breezeway. With 157,000 square feet, about triple the size of Frisco's existing library. The new building is designed to have multiple flexible spaces that can accommodate library patrons as well as nonprofit groups and business meetings. The children's area will delight young readers with a life-size dinosaur skeleton. Large plazas will host year 'round events.
Firefly Park
Located at Dallas North Tollway and US 380, the pedestrian-friendly Firefly Park development is the newest among many mixed-use destinations that make Frisco a premier city for shopping, dining, working and entertaining. The Dream Frisco hotel will anchor Firefly Park, which will include 4.75 million square feet of office space and 380,000 square feet of high-end retail space, along with miles of hike-and-bike trails, multiple ponds and water features, several playgrounds, and a music hall and outdoor amphitheater. Groundbreaking will be in 2023.
Learn more about our unbeatable Four Corners location, where our hometown of Frisco comes together with the dynamic neighboring cities of Allen, McKinney and Plano.
Images courtesy of Hall Group, H-E-B and Frisco Public Library