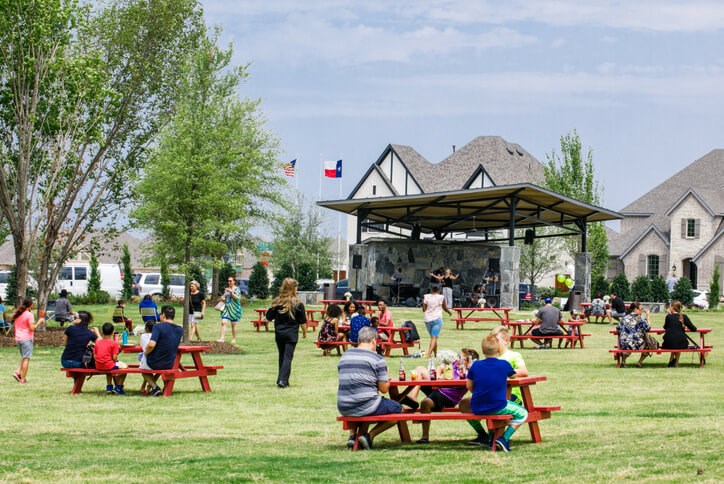 7 ways The Grove Frisco strives to be an engaged community
Staying socially engaged has big benefits for everyone, including better physical and mental health, and even longer life. Plus, socializing is a lot of fun.
At The Grove Frisco, we believe that being an engaged community is so important, we've made it a key part of our vision: "From families on their front lawns to neighbors sharing a cup of coffee, you'll see we're a place where people are compelled to come together."
As our vision becomes a reality, here are 7 ways we're actively working to make The Grove Frisco an engaged community for residents of all ages and from all walks of life.
Orchard House. Our flagship amenity and info center is designed as a true community center where residents come together all year long, for events and gatherings both big and small. We believe in the importance of amenities like Orchard House so strongly, we opened it before our first resident moved in. Along with social activities, there's also fitness, year 'round swimming in geothermally heated pools, lawn games and much more.
Swirl Cafe & Bakery. If Orchard House is our family room and front porch, think of Swirl Cafe & Bakery as our kitchen table, where neighbors gather to enjoy scratch-made baked goods and a full menu of sandwiches, soups, salads and more. They even offer take-home meals and home delivery. It's true that food brings people together, and that's why we partnered with this local, family-owned company to offer another sweet reason for residents to meet at Orchard House.
Lifestyle events. We believe it's important to celebrate life's big and little moments. That's why we have a Lifestyle Director whose priority is bringing residents together for holiday parties, back-to-school bashes, outdoor movies and concerts, arts and crafts, and much more. 
Parks. Our vision includes five proposed unique parks, with an eight-acre city park, a hammock park, a butterfly park and more coming soon. Our first park, Adventure Park, includes a one-of-a-kind, handcrafted playground where children's imaginations can soar as they benefit from fresh air and physical exercise.
Trails. Engaging with nature is as important as being socially engaged, so why not enjoy the two together? Our planned miles of trails are made for exploring and exercising. You can set out with a friend, or meet one along the way. The adventures that await can be as simple, and as rewarding, as picking some blackberries from our community orchards, admiring a wildflower, or spotting a bird you've never seen before. All around, the mature trees that give The Grove Frisco our name are treasured and preserved.                                                                                           
Dogs. Our residents love their dogs, and so do we. That's why we've planned a future dog park, and four-legged family members are welcome at Orchard House and in all our parks and trails. Our builders are even offering dog-friendly features such as pet showers and bowl niches.
Our homes. We encourage our leading homebuilders to offer home plans with inviting front porches, to keep our engaged community atmosphere going along every street and cul-de-sac. By design, no home in The Grove Frisco is far from a park or trailhead, so it's easy to set out walking to a new adventure, and invite some neighbors along the way.
Learn more about our vision for The Grove Frisco, which also includes being a Natural, Crafted, Unhindered and Intentional community.