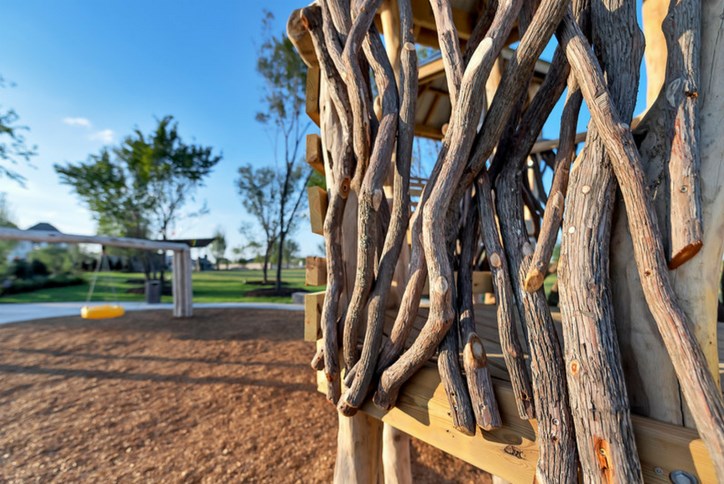 In crafting a connection to nature at The Grove Frisco, it all starts with the kids
For three of the people who have worked to transform The Grove Frisco from vision to reality, it's all about the kids, especially when it comes to preserving and creating natural places where the community's youngest residents can play and explore. 
"I think about my own kids when creating a community," said Brian Cramer, senior vice president of Newland Communities, the developer of The Grove Frisco. "My son loves to fish, and picking flowers is one of my daughter's favorite things. I think about how we can be intentional in creating opportunities for delight and discovery around every corner. Our ultimate goal is creating a community that's a special place for families."
Brian Adams, a land planner and landscape architect who helped create The Grove Frisco's master plan, grew up on 500 acres of family land, and he wants to provide today's kids with the same opportunities to roam and play.
"I think The Grove Frisco is going to provide the same sense of adventure I enjoyed as a kid, that wonderful feeling of endless possibility and exploration," Adams said.
Landscape architect Paul Cozzolino says he imagines how his own kids, ages 5 and 2, will experience the parks and playgrounds he designs.
"The way that I design changed when I had my first kid," he said. "Now, when I design a park or playground, I think about how to make it a special place for a child. I love seeing my own children play and be their own independent persons for a moment. Those are the experiences that build growth and confidence as kids develop."
Cozzolino compared the large stands of mature trees at The Grove Frisco to the community life he hopes to see flourish here.
"In a grove, each tree has roots that extend far beneath the surface of the ground. The grove is truly a network, a community of connected trees," he said. "Likewise, the community is a social network. When you move in, you meet one new friend at the park, and then another at an event, and your roots in the community gradually grow deeper and stronger."
Here are some of the ways we're creating natural parks and open spaces for residents of all ages to enjoy and explore nature at The Grove Frisco:
Adventure Park. This large park is home to a one-of-a-kind playground that was designed and hand-built onsite by Asheville Playgrounds. Crafted of locust logs, woven mountain laurel branches and other natural materials, this playground has a bird's nest hideout, climbing structures, swings, rope walkways and many other features that invite kids to exercise their bodies and imaginations. Adventure Park also has natural open spaces where kids can create their own games and adventures.
Planned Butterfly Park. The Grove Frisco will have a future butterfly park, with flowers and shrubs designed to attract a wide variety of these colorful insects. Play structures, unique wooden benches and interpretive markers will add to the experience.
Planned Hammock Park. At this relaxing park, residents of all ages will be able to swing gently in cozy hammocks, enjoying the clouds or stars above, and taking in the sights, sounds and smells of nature all around.
Future Orchards. Proposed community orchards and blackberry groves will invite residents to explore and pick fresh fruit to enjoy. These orchards are just one of the ways in which The Grove Frisco strives to provide adventures and discoveries in every season of the year. They also inspired the name of our flagship amenity, Orchard House.
Trees. Preserving our mature forest of American Elms, Hackberries and other trees is a priority for The Grove Frisco. We moved some large trees to Adventure Park to create a special sense of place there, and we're adding many new trees throughout parks and neighborhoods as the community grows.
Proposed Trails. Trails are the connective tissue for nature and community life. We have already completed the first 4.5 miles of trails, connecting homes and neighborhoods to amenities like Orchard House and Adventure Parks. Our trail system will grow along with the community, always providing a feeling of discovery and adventure.
Learn more about the natural amenities we're creating at The Grove Frisco.