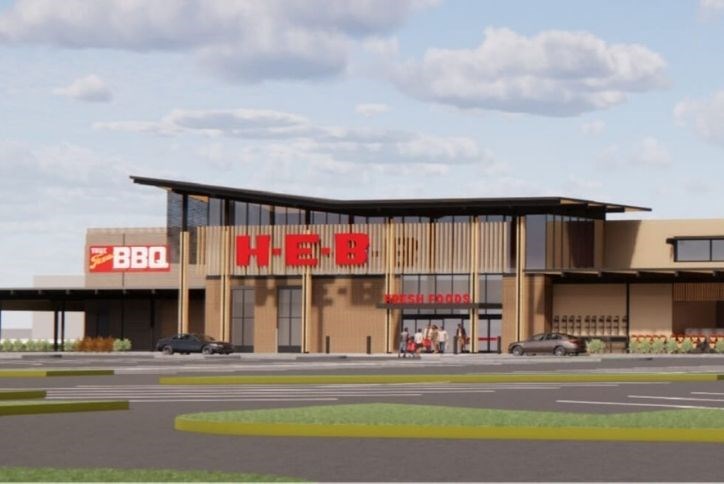 Four corners, three H-E-B stores coming near The Grove Frisco
For anyone new to DFW or who has just moved into their new home in Frisco, one good thing to know is that Texas-based grocer H-E-B is as much loved around these parts as the Cowboys and the Cotton Bowl.
That's why we're so excited that H-E-B has announced plans to open new flagship stores in three of the cities surrounding The Grove Frisco. That includes our hometown of Frisco, along with McKinney and Plano.
We call our location the Four Corners because it's where Frisco, McKinney, Plano and Allen all come together, providing our residents with endless options for nearby shopping, dining and entertainment, plus close proximity to major employers, schools and more.
With over 400 stores and more than 130,000 employees in Texas and Mexico, H-E-B is is one of the largest privately held companies in the state, with over $30 billion in annual sales. H-E-B ranks No. 2 among the nation's top grocery stores, second only to Amazon, in a recent report from Dunnhumby, a global consumer science company. H-E-B beat tech giants like Facebook and Apple on Glassdoor's "Best Places to Work in 2021" list, where it ranks No. 10.
While H-E-B has been well-entrenched in its hometown of San Antonio, along with Austin, Houston and just about every other major Texas city, its presence in North Texas has been relatively limited, but that's about to change in a big way.
In early 2021, H-E-B announced that it had chosen Frisco and Plano for its first DFW stores, and in June it added a new McKinney location to the list. Here's what we know about these future stores.
Frisco
Located at the northeast corner of Main Street and Legacy Drive, H-E-B's new Frisco store is set to open in Fall 2022. Groundbreaking festivities took place in early June.
With 111,000 square feet, this flagship store will include a True Texas BBQ restaurant with a drive-through. Texans are serious about their barbecue, so it's good to know that True Texas was named the best barbecue chain in the state by Texas Monthly, and one of the best in the nation by Thrillist.
Additional highlights include a bakery, deli, a Sushiya sushi counter, a Cooking Connection with live demonstrations, a Healthy Living department with bulk foods and nutrition products, a Texas Backyard department for outdoor essentials, and much more.
H-E-B is the largest wine retailer in Texas, and this store will offer an extensive wine selection with a sampling station, along with a large variety of craft beers. The store will also offer H-E-B Curbside and Home Delivery.
H-E-B designed the store to reflect the unique character of Frisco, with an emphasis on environmental sustainability. The site will feature extensive native landscaping and outdoor community space.
The store will be located less than 7 miles from The Grove Frisco via Main Street, according to Google Maps.
McKinney & Plano
H-E-B has also announced a new McKinney store to be located the northeast corner of Custer Road and Eldorado Parkway. Planned to open in Spring 2023, this store will be even closer to The Grove Frisco – about 2.5 miles away according to Google Maps. A groundbreaking is planned for later in 2021.
Meanwhile, H-E-B has also broken ground for its new Plano store, located at the southwest corner of Preston Road and Spring Creek Parkway. Like the Frisco store, the Plano location will also include a True Texas BBQ restaurant and all of the other features H-E-B is known for.
See what else in located close to The Grove Frisco's unbeatable location, offering new homes in Frisco, Allen, McKinney and Plano.
Photos and renderings courtesy of H-E-B.