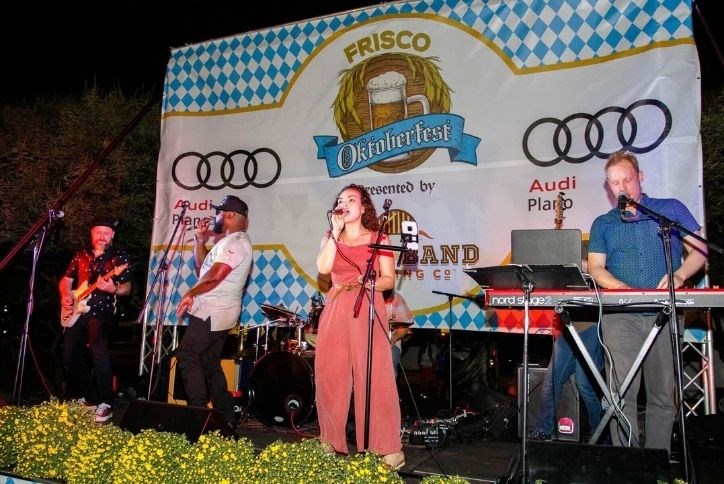 Enjoy Oktoberfest and more fall events near The Grove Frisco
Fall is for festivals in Frisco, where we celebrate everything from Oktoberfest to Halloween. And with our convenient "Four Corners" location, The Grove Frisco is close to fall events in Frisco as well as Allen, McKinney and Plano as well.
Here are our top picks for fall events in Frisco and our neighboring cities through early November. Around that time, we'll be back with our favorite holiday event picks.
Many of these events have free admission, with food, beverages and merchandise available for purchase. Pre-registration is recommended for some. We've included a link for each event so you can get complete details.
Frisco Oktoberfest
On Oct. 1-2, Frisco Oktoberfest returns to downtown Frisco's Frisco Square with traditional favorites including bier, bratwursts, pretzels and more. There'll be two stages with performers handpicked to transport you to Germany, including Baba Yaga Orkestar, Happy Players, Alpine Village Band and Texanischer Schuhplattler Verein d'Holzar Dancers. Activities will include a keg tapping ceremony, bier stein hoisting competition, brat eating competition and keg rolling races.
Family Funtoberfest
Tap into Frisco's second Oktoberfest celebration on October 2-3 at the Frisco Fresh Market. The fourth annual Family Funtoberfest will be very kid-friendly, with activities including giant games, a cake walk, bounces and inflatables. There'll also be fun foods and unique artisan offerings from Fresh Market vendors. Traditional Oktoberfest attire such as dirndls and lederhosen are willkommen.
McKinney's Oktoberfest
Set for Sept. 24-26, McKinney's Oktoberfest gets a jump on fall fun. In historic downtown McKinney, this three-day fest will include authentic German food, domestic and imported beer, live music, games and much more.
Movie Nights at The Star
Home to the Dallas Cowboys, more than 20 restaurants and a growing number of boutique shops and salons, The Star is one of Frisco's most exciting attractions. They have free, family-friendly events throughout the year, including Movie Night at the Star. Fall is a perfect time to enjoy the next upcoming Movie Nights, hosted under the stars at Tostitos Championship Plaza. "Mulan" will show on Sept. 29, and "Soul" will be featured on October 27.
Frisco Arts & Wine Walk
You can enjoy the Arts & Wine Walk in downtown Frisco's Rail District every month, and fall is a great time to enjoy strolling around and exploring the unique shops, restaurants and other attractions in this historic area. Each participating business hosts a local artist and winery, so you can discover something new at every stop. Upcoming dates for the Arts & Wine Walk are October 14 and November 11.
Fall Festival with Trick-or-Treating
On October 22, Frisco Fire Safety Town will host a Fall Festival with Trick-or-Treating in their seasonally decorated mini town. This free event will be held rain or shine. Part of the Frisco Fire Department, Safety Town is a fun, hands-on educational facility that teaches children of all ages how to prevent injuries, respond during potential emergencies, and observe general safety skills. They are open for tours throughout the year.
Allen's Chalk the Walk
On Oct. 2, Allen's family-friendly Chalk the Walk event invites kids of all ages and skill levels to transform the sidewalks of the Allen Event Center into a colorful canvas. This free event will include prizes such as gift cards and tickets to upcoming events at the Center.
Plano's Art & Wine Walk and Food Festival
Plano has a duo of fall events for those who love wine, art and food. On Sept. 25, the Downtown Plano Art & Wine Walk is a shop-and-sip event with live music, curated art exhibitions and wine tastings at each participating location. On Oct. 9, the Plano Food + Wine Festival at Legacy West will showcase 30 local and national wineries and 15 delicious local restaurants. There'll also be live music, culinary demonstrations, craft beer and local vendors.
Halloween at the Heard
Ever wanted to trick-or-treat among the dinosaurs? On October 16, McKinney's Heard Natural Science Museum will host Collin County's most unique family-friendly Halloween event. Halloween at the Heard will feature trick-or-treating amid its thrilling Dinosaurs Live! exhibit, featuring a trail of life-size animatronic dinosaurs. Activities will also include a family-friendly movie on the outdoor amphitheater stage.
Plano Boo Bash
On Oct. 28, Plano's Boo Bash at the Tom Muehlenbeck Recreation Center will offer carnival games and candy for children 12 and under and their parents. Come dressed in costume and bring a trick-or-treat bag to fill up. Admission is free, but attendees are asked to bring a canned food item to be donated to a local food bank.
Autumn at the Dallas Arboretum
Easy to reach from The Grove Frisco, the Dallas Arboretum is one of the best places to experience autumn splendor in the Metroplex. The 16th annual Autumn at the Arboretum will feature one of the nation's best pumpkin festivals, with more than 90,000 pumpkins, gourds and squash throughout the grounds. Highlights include a new Pumpkin Village and a Bugtopia! display with larger-than-life insect topiaries, fascinatingly bugged-out pumpkin houses and a maze for younger visitors.