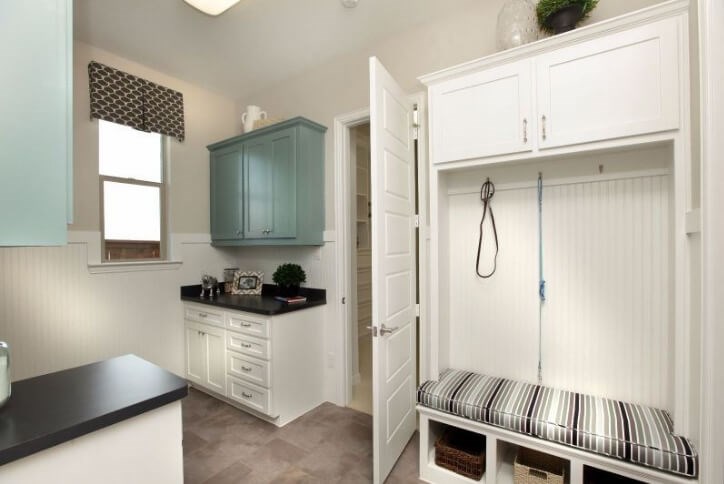 Drees has new plans with 3-car garages at The Grove Frisco
How do you make a three-car garage even more functional and convenient? Connect it to the home's living areas with a thoughtful "family foyer," as Drees Custom Homes has done in its new one-story Ridgeleigh and two-story Laramie plans at The Grove Frisco.
As the newest addition to Drees' popular and growing lineup of home plans at The Grove Frisco, both the Ridgeleigh and Laramie include three-car garages as standard features. The garage doors in the back, facing tidy and convenient rear alleyways.
Between the garage and the living areas, Drees' signature "family foyer" helps family members come and go, with immediate laundry room access and convenient built-ins such as benches and backpack racks.
The Ridgeleigh
The one-story Ridgeleigh has three bedrooms, along with an open family, kitchen and dining area.  A pocket office, another unique Drees feature, is located between the kitchen and the family foyer.
The Ridgeleigh has a covered patio along with a spacious front porch.
It also offers an optional second floor that can be built several ways. This upper level can be built with a gameroom and two bedrooms, with one or two full bathrooms. An optional media room may be added.
The Laramie
The two-story Laramie has a pocket office and an oversized laundry room with built-ins between the kitchen and the three-car garage.
The two-story family room is open to the kitchen and dining room, and this entire informal living area overlooks the large covered patio.
The owner's suite is downstairs, along with a guest bedroom with a full bath. The guest suite can also be built as a study.
Upstairs, the Laramie has two more bedrooms and a gameroom, with options for a media room or fifth bedroom.
See all Drees plans offered in The Grove Frisco, priced from the high $400,000s to the high $500,000s overall. You can also take a tour of their beautifully decorated model home, the Violet.