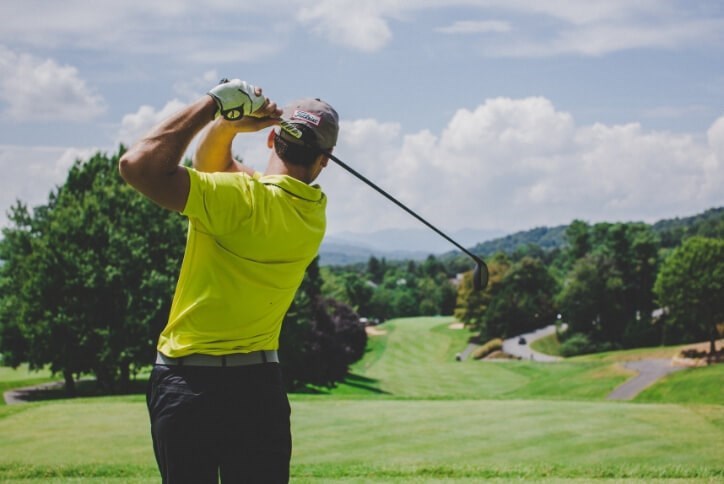 Here's the latest on the PGA of America HQ now under way in Frisco
The Grove Frisco's sister community, Hollyhock in Frisco, recently hosted a crowd of real estate agents and local media who came out to hear the latest news about the new PGA of America headquarters, now under development.
The presentation, held at Hollyhock, was delivered by Frisco Economic Development Corporation President Ron Patterson. He began with a little background on how Frisco became Sports City USA – with the PGA representing the city's 8th major pro sports attraction.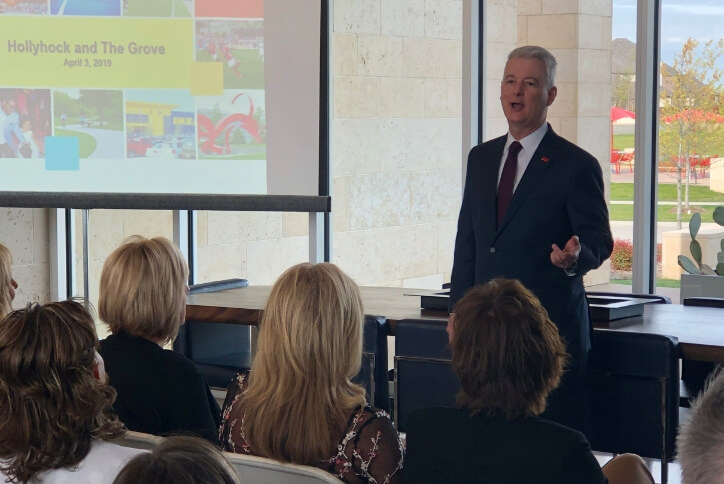 Patterson recalled how Frisco was once a small town with just a few stoplights. Even attracting a new shopping center was a major challenge, and the Dallas North Tollway was still a dream. What happened since then has been the result of deliberate planning on the part of city leaders.
"It was intentional, we thought about what is it we can do to set ourselves apart, and sports came into play," said Patterson.
Frisco's first major sports coup was attracting the Frisco RoughRiders, a Minor League Baseball team founded in 2014. Since then, Frisco has become home to 8 pro sports organizations, including the Dallas Cowboys, Texas Legends, Dallas Stars, Texas Revolution, FC Dallas, Dallas Rattlers, and most recently the PGA.
Frisco recently dubbed itself Sports City, U.S.A. to promote its status as home to so many teams and arenas, and all the lifestyle and economic benefits that come along with that. 
Frisco's central location – within a day's drive of many major U.S. hubs – was central to attracting the PGA, as it was to drawing other sports teams and businesses, Patterson said.
He said that the 600-acre campus evolved from an original dialogue between a developer and the PGA to create a new PGA championship golf course in Frisco. Frisco officials learned that the PGA was feeling landlocked at its current home in Palm Beach County, Florida, and might be open to a new site with more room to spread out. They touted Frisco's central location to the PGA, and the relocation deal was soon sealed.
Patterson said the PGA HQ in Frisco will be operational by 2022. It is being developed by a partnership that includes Omni Stillwater Woods (OSW), a joint venture led by Omni Hotels & Resorts, with Stillwater Capital and Woods Capital; the City of Frisco, including its Economic and Community Development Corporations; and the Frisco Independent School District.
The PGA HQ will be part of a 600-acre mixed-use development to be located at the future intersection of Rockhill Parkway and Legacy Drive. Representing an initial development of more than $500 million, it will have a total of 45 holes of golf, including two 18-hole championship courses, one nine-hole executive course, and practice areas.
It will also have a 500-room Omni resort with 127,000 square feet of conference space. There will also be a clubhouse, Class AA office space, a technologically advanced retail village, parks and open space, and several miles of trails.
Patterson said that the goal will be to complete all components of the mixed-use development at roughly the same time. He added that even though the golf courses will be completed on time, they may need additional time to grow in before they are ready for play.
The PGA's 100,000-square-foot headquarters will include an education facility that will provide more than 300 Frisco ISD students with opportunities to practice and play.
The PGA's agreement also guarantees several major golf events for Frisco, including two PGA championships, two KPMG Women's PGA championships, and a possible Ryder Cup tournament.