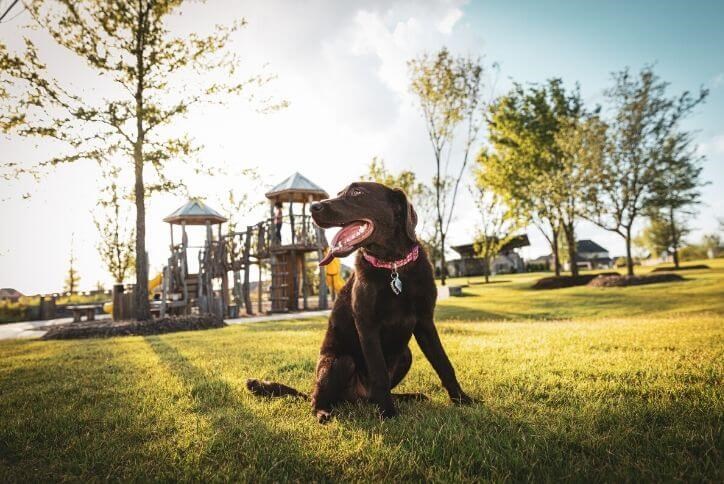 Our Canine Bucket List has 10 ideas for Frisco fun with your pooch
Bucket lists are popular because they help us focus on the things we want to enjoy most in life, so why shouldn't our furry family members have their own bucket list? After all, for many of us, they're our best friends and constant companions.
With that in mind, we came up with this Canine Bucket List of 10 things to enjoy with your dog in and around The Grove Frisco and our Four Corners location cities, including Frisco, Plano and McKinney.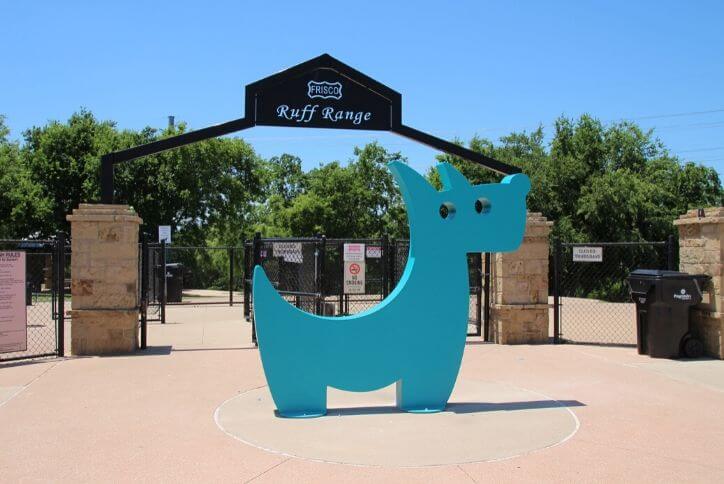 Ruffing it. Just look for the giant turquoise dog sculpture to find the Ruff Range Dog Park, the only dedicated public dog park currently located within Frisco's city limits. To make it easier, set your GPS to 5335 4th Army Memorial Drive to get to the Ruff Range, located within B.F. Phillips Community Park on Frisco's west side. We think the dog sculpture looks very much like a Scottish Terrier, but all kinds are welcome here, with fenced off-leash areas for small and large dogs. Open every day except Thursday, when it is closed for maintenance, this park has pavilions, water stations, dog wash stations and seating areas. To enjoy some one-on-one time with your pooch, you can explore the trail and other areas of the larger 117-acre community park.
Pooch splash pad. Kids love splash pads, so why shouldn't our furry family members get to enjoy a splash pad as well, especially during hot weather? There actually is a pooch splash pad, at the dog park at Bonnie Wenk Park in McKinney. This beautiful two-acre park also has separate play areas for small and large dogs and a shaded pavilion. The .44-mile trail loop at the dog park connects to a loop around a scenic pond.
Central bark. Dog-friendly Frisco Central Park is another great place to take your furry family member for on-leash fun. Herding breeds might love the bigger-than-life sculpture, titled Cattle Drive, depicting the historic cattle drive along the Shawnee Trail. Located near the intersection of Gaylord Parkway and Parkwood Boulevard, this 8-acre park also has a small pond, a running brook, walking trails, benches and an amphitheater. Frisco Commons is another local park that welcomes leashed pets. Highlights here include a shady trail and a pond.
Simply pawsome. Open to the public in The Colony, the Pawsome Playground Dog Park has a 0.85-acre small dog area and a 2.1-acre large dog area, both fenced. Amenities including shaded seating areas, benches and a drinking fountain with a dog bowl. The fire hydrants are purely decorative, but your dog will definitely know what to do.
Eat and play. With six tasty restaurants sharing an open-air patio overlooking an oak-shaded dog park, The Shacks is one of the greatest dining concepts we've ever seen. Located in The Colony, The Shacks offers burgers, ramen, coffee, seafood, street tacos, a taproom and more. You don't need a membership to eat, but you will need one to access the off-leash dog park, and there are flexible options ranging from one month to one year. They have special events all the time, such as live music, dog adoption days and yoga with pups.
Lazy Dog and more. The Frisco area is home to many dog-friendly restaurants, including Lazy Dog, a growing national chain that has recently opened five locations in North Texas. Dogs are welcome in the patio dining area, and they have a dog menu that includes grilled hamburger patties or chicken breasts, served with brown rice and veggies. A bowl of water is complimentary. You can join Pepper's Pack, which includes a quarterly play pack with toys and treats, $2 dog meals at any location, surprises and more.  Lazy Dog currently ranks first on Yelp's list of local area dog-friendly restaurants, and there are many other choices as well, including the Truck Yard, a very dog-friendly food truck park in The Colony.
K-9 Corral at Craig Ranch. Described by Yelp users as a "hidden gem" in McKinney with friendly people and dogs, K-9 Corral at Craig Ranch located next to a multifamily complex, at 7450 Van Tuyl Parkway.  This spacious, fenced park has a trail that meanders through a wooded area, with mulch play areas and all the usual amenities, including water fountains, benches and waste stations.
Just Plano fun. The dog park at Jack Carter Park is Plano's official city amenity for pooches. This fenced, two-acre park is located along Bluebonnet Trail, near its intersection with Chisholm Trail in central Plano. This off-leash park offers separate play areas for large and small dog, shade shelters, picnic tables, benches, LED lighting, water stations for people and dogs, and a dog rinse station.
Keep your ears perked. To keep up with all dog-related events and activities in the Dallas area, consider following the Dallas Morning News' Dog About Town page on Facebook. You'll find a link each week to their comprehensive Dog About Town column in the newspaper, plus doggy-rific posts of the day, and much more.
Four-legged fun at The Grove Frisco. With amenities including a dedicated dog park and miles of trails, The Grove Frisco is a place dogs and their people will love to come home. Whether it's playing a game of catch on the grassy lawn at Orchard House, or going on a walk through Adventure Park or Explorer Park, dogs will enjoy the good life at The Grove Frisco.