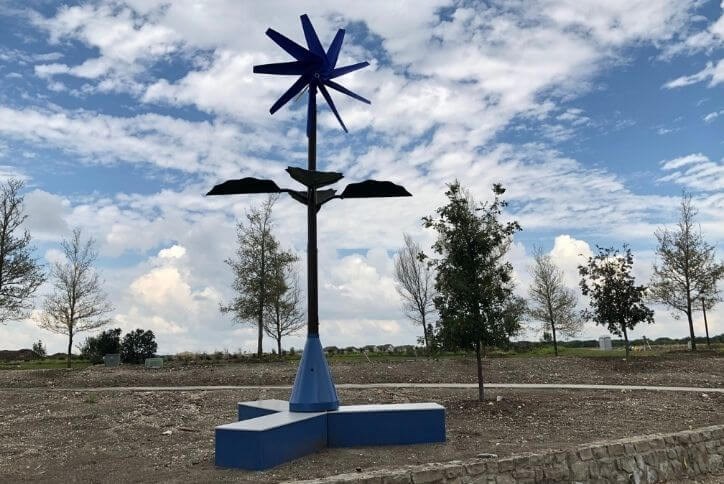 What's new? New park, trails and 229 new homesites coming this fall
A new park with a fishing pond and a Wi-Fi windmill, new trails, and 229 new homesites in all price ranges are among the newest developments opening this fall at The Grove Frisco.
Homebuilders in The Grove Frisco are also completing a new generation of fully furnished model homes, with the first ones planned to open by the end of the year.
The biggest new amenity coming to The Grove Frisco this fall will be a new park located at Custer Road (FM 2478) and Rolater Road, at the southeast corner of the community's 735-acre master plan.
This park boasts a turf event lawn, native Blackland Prairie grasses, a pond that will be stocked with fish, fishing pier and natural-surface trails that will meander through wooded areas. The park will also have a sitting areas with shade structures where residents can gather to enjoy picnics and other activities.
One of the most visible features in this amenity will be a windmill powered by solar and wind energy, generating a robust Wi-Fi signal throughout the park.
A new trail will connect this park to other amenities at The Grove Frisco, including Orchard House, Adventure Park and the Gartner Bark Park. The trail will eventually extend all the way north to Main Street (FM 3537), as part of an extensive trail system that will ultimately connect all of the community's neighborhoods and amenities.
Another new extension of the trail system connects to Liberty High School and extends to Gartner Road.
The Grove Frisco recently completed a total of 229 homesites for our community's leading homebuilders.
These new opportunities include homesites measuring 50 feet wide for Landon Homes, and 55 feet wide for American Legend Homes and Trophy Signature Homes. Homesites measuring 65 wide will be completed for American Legend Homes and Southgate Homes, while 74 feet wide homesites are planned to be completed for Highland Homes and Southgate Homes.
All builders are now selling in these newest neighborhoods, which are mainly located between Gartner Road to the north and Rolater Road to the south. These neighborhoods surround the new park, and some homesites with park views are available.
Builders at The Grove Frisco will be opening new model homes to showcase their latest designs. The first model homes are planned to be completed in late fall, with more to open in the months that follow.
Looking ahead to 2021, more new amenities are planned for The Grove Frisco, including a park with a pavilion designed for outdoor movies, concerts and other events. A second blackberry orchard is also planned, along with a unique park that will feature glowing oval swings for adults, similar to these in Boston. A second dog park and additional sports fields are also slated for new areas of development located north of Gartner Road.
Explore new homes offered at The Grove Frisco.