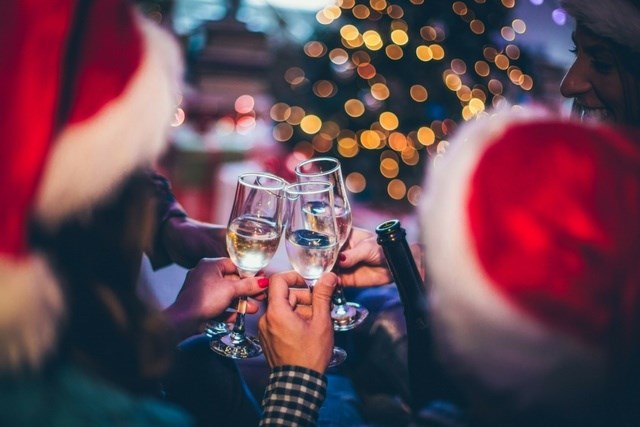 Our holiday guide to festive Frisco and Dallas events near The Grove Frisco
One of the best things about The Grove Frisco's "Four Corners" location is that our residents can easily enjoy everything that our hometown of Frisco has to offer, plus all the events and attractions in our neighboring cities of Allen, McKinney and Plano.
During the holidays, especially, our location adds up to four times the fun. To make sure you don't miss any opportunity for merrymaking, we've wrapped up this list of our favorite events for residents of all ages.
'Neath the Wreath Gift Market in Allen
On Nov. 11-14, the 'Neath the Wreath Holiday Gift Market debuts in a new location, the Marriott Dallas Allen Hotel & Convention Center. Brimming with unique holiday and home décor, ladies and children's clothing, jewelry, gourmet food and much more, this event is the largest fundraiser for the Junior League of Collin County. To date, it has raised over $4.4 million to give back to the local community through education and community projects. Join over 13,000 fellow shoppers and more than 125 merchants to find great holiday gifts that give back to a worthy cause. For serious (and social) shoppers, the Ladies Night Out Preview Party is a must.
Frisco's Christmas in the Square
Beginning Fri., Nov. 26 and continuing through Jan. 2, Frisco's annual Christmas in the Square is billed as the largest choreographed lights and music display in North Texas. Beginning at 6 p.m. each evening, this show features more than 175,000 lights, 11.5 miles of wiring and over 8 miles of extension cords. You can drive through and listen to the music by tuning to 107.3 FM, or walk through charming Frisco Square and hear the music. This year's event includes Skate the Square, an outdoor ice-skating rink, plus a Christmas tree lot. The light and music show is free, but some activities do require a fee.
Lights on the Farm in Plano
Beginning Fri., Nov. 26 and continuing through Christmas, the Lights on the Farm event at Plano's Heritage Farmstead Museum features over 1 million twinkling lights and animated displays along a quarter-mile trail. The scenic stroll begins on Candycane Lane, then meanders through Santa's farmshop and Poncho's pasture. There's also an illuminated tunnel of lights with music. Santa will be on hand every night for photos. Treats including kettle corn, hot cocoa and S'mores will be available for purchase.
McKinney's Home for the Holidays
Starting Fri., Nov. 26, McKinney's annual Home for the Holidays festival runs through Sunday, offering visits with Santa, children's activities, and extended shopping hours in the historic downtown area, filled with more than 100 unique boutiques, art galleries, cafes and restaurants. There'll also be live music, food booths and local arts and crafts vendors. Horse-drawn carriages, traveling carolers and a Christmas tree lighting ceremony will add to the festivities.
Modern Wreath Making Workshop in Plano
If you love modern design, check out this Modern Wreath Making Workshop at Plano's Legacy Food Hall on Mon., Nov. 29. Experts from the Creative Arts Guild of Wylie will help you create a modern wreath of live greenery on a slim brass hoop. The $65 fee includes all materials, a glass of wine or beer, and a $15 gift card for dinner at the food hall.
Frosty 5K and Merry Mile
On Sat., Dec. 4, enjoy a festive fun run and help raise funds for the City of Frisco's Parks and Recreation Department's SOAR scholarships, which help qualified residents participate in recreation programs and special events. The Frosty FK and Merry Mile starts in downtown Frisco and weaves through the historic Main Street and plaza area. Join the fun and feel good about indulging in those extra holiday treats! If one race on Dec. 4  isn't enough, there's also the Holly Jolly 5K and Fun Run in Allen, taking place in the afternoon.
Holiday Tour of Homes in McKinney
On the weekend of Dec. 4-5, experience a Christmas Village bustling with holiday activities and tours of six beautifully decorated private residences in historic downtown McKinney with the 48th Annual Holiday Tour of Homes. Proceeds benefit Chestnut Square, a collection of house museums in downtown McKinney.
Homemade McKinney Rotary Club Christmas Parade of Lights
On Sat., Dec. 11, come out for the McKinney Rotary Club's annual Parade of Lights, with a theme this year of "Rockin' Around the Christmas Tree." This brilliant event is free to viewers, and entry fees paid by parade participants help support Rotary Club projects such as child health and improving basic education and literacy. There will be a free trolley shuttle to the parade route in downtown McKinney.
Holiday Shopping at Frisco Fresh Market
On the weekend of Dec. 18-19, head over to Holiday Shopping at the Frisco Fresh Market to stock up on everything you need for fresh and delicious holiday meals. Vendors will have fresh produce, meats, seafoods, wines, desserts and more. There'll also be plenty of easy ready-to-heat meals such as gumbo, soups and ramen. You'll find holiday décor such as wreaths and candles, and great gift ideas like jewelry, clothing, oils and vinegars, bath products and more.
Homemade Holiday at Frisco Public Library
Need something for the kiddos? On Tues., Dec. 21, the Homemade Holiday event at Frisco Public Library is a fun holiday craft activity for kids ages 6-12. They'll leave with a handmade holiday craft you can add to your home's decorations.
Cirque Musica Holiday Spectacular
On Christmas Eve and the day after Christmas (Dec. 24 and Dec. 26), the Cirque Musica Holiday Spectacular comes to Frisco's Comerica Center. This all-new production features some of the greatest holiday songs of all time performed with the chills, thrills, and excitement of the best Cirque performers from around the world.
At The Grove Frisco, we also enjoy our own resident events during the holidays and throughout the year. See fun photos from some of our recent festivities.