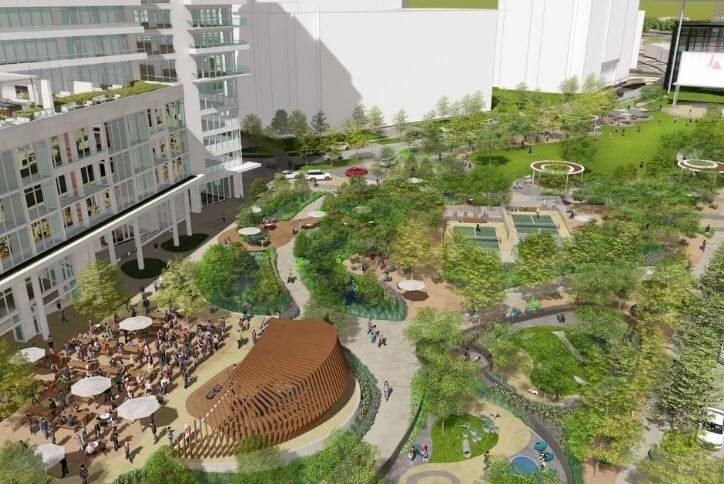 3 more great new things coming to Frisco
One of our most-read blog posts of 2021 was "3 Great New Things Coming to Frisco." You can read the full blog here, but for a quick recap, those three things were H-E-B, Texas' favorite grocery store making its North Texas debut in Frisco; the mega-exciting PGA Frisco golf and entertainment complex opening this summer; and the
Frisco Public Library, complete with a life-size dinosaur skeleton in the kids' area, also opening this year.
Here are details on three more great things coming to Frisco, including a dynamic park inspired by Dallas' Klyde Warren Park, a performing arts center, and the first public spaces planned to open in Frisco's long-awaited "Central Park," Grand Park.
A Frisco green space inspired by Klyde Warren Park
If you're new to the area, you may or may not have heard of Klyde Warren Park, a five-acre urban park in downtown Dallas. The vision was innovative, creating a green space literally out of thin air, on top of a deck over a recessed eight-lane freeway. Since it opened in 2012, Klyde Warren Park has become Dallas' beloved town square, winning national acclaim and attracting over a million visitors each year.
The new park planned for the HALL Park mixed-use development in Frisco won't be built over a freeway, but it will share Klyde Warren Park's vision of a highly programmed green space filled with art, food and drink offerings, playground, and year-round calendar of events and activities for visitors of all ages.
At 5.67 acres, Frisco's park will be slightly larger than Klyde Warren Park, and it's well on its way to becoming reality, after Frisco City Council unanimously approved the park use agreement with developer Craig Hall in February.
Under this agreement, Hall and the city will each provide $15 million to fund the park's $30 million construction cost. After the park is completed, it will be deeded to the city of Frisco. It is slated to open in fall 2023.
Frisco's performing arts center
This new park will be a centerpiece of Frisco's planned performing arts center at HALL Park, which brings us to the second item on our list.
In true cooperative Frisco style, this center will be a public-private partnership between the city, the Frisco Independent School District, and HALL Park developer Craig Hall.
A main performance hall with between 1,250 and 1,500 seats will be the main venue, along with a smaller hall with 250-350 seats, a multi-story parking garage, office space, ticketing booths and concession areas.
Planned to open in fall 2023, the center will serve as a multi-use space for Frisco ISD for approximately 150 days of the year, hosting art exhibits, performances and professional development events. When not being used by Frisco ISD, it will be available to rent to arts organizations and businesses for performances and other large-scale events.
The total cost of the center has been estimated at $67 million, with the city providing $14 million in voter-approved bond money, and Frisco ISD contributing $43 million from its 2018 bond package. Hall will contribute $10 million. The main performance hall will be owned by Frisco ISD, while the city will own the smaller venue and the parking garage.
The performing arts center will be part an overall redevelopment of the 162-acre HALL Park mixed-use development, known for its extensive public art collection. HALL Park is located along Dallas North Tollway near Sam Rayburn Tollway, about 9 miles from The Grove Frisco's main entrance.
A truly grand Grand Park
The vision for Frisco's 1,000-acre Grand Park has been patiently building since 2005, when the city purchased the property that formerly housed the Exide Technologies battery recycling plant. The city received full control of the property for the first time in October 2021 and plans to begin immediately moving ahead on the cleanup process, Frisco Mayor Jeff Cheney told the Dallas Morning News.
"Full steam ahead" was how the mayor described Frisco's intentions.
The cleanup will take several years, but Cheney told the Morning News that he wanted to make a portion of the land open for recreation by the end of 2022.
"This may be as simple as cutting some quick trails through the property — or maybe just a trail loop, but you got to start somewhere," Cheney stated.
The beginning may be modest, but it will be real after such a long wait, and it will be a preview of a much grander things to come.
Cheney said the design for Grand Park will take inspiration from some of America's best public parks, including New York City's Central Park, which is somewhat smaller at 840 acres. The initial master plan vision, which could evolve, includes lakes, trails, public art, a performance stage, an arboretum, a festival hall, a kid's play area and wetlands. There will also be commercial components, such as restaurants and retail.
Grand Park is located along the Dallas North Tollway at Cotton Gin Road, about 7 miles from The Grove Frisco.
Image courtesy of HALL Park.