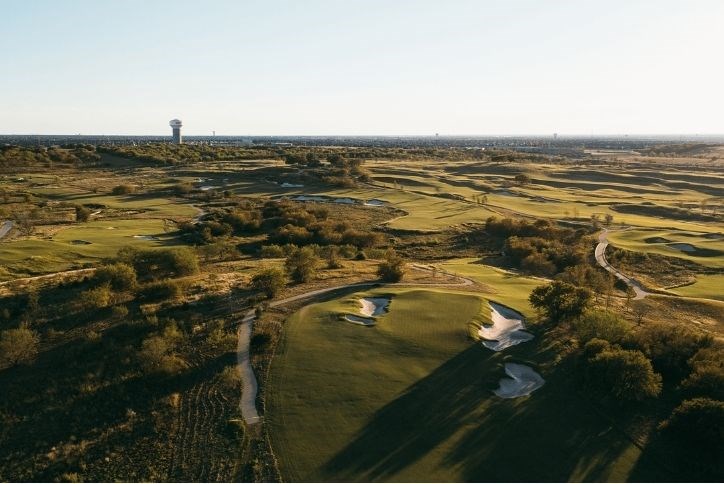 3 great new things coming to Frisco in 2022
2022 is already shaping up to be a very exciting year for Frisco, with at least three major developments poised bring new recreation, shopping and entertainment opportunities close to The Grove Frisco.
Here's more detail on each of these three developments, all set to open in 2022.
PGA Frisco
Nicknamed the "Silicon Valley of Golf," PGA Frisco plans to open its stunningly beautiful East and West courses this summer, preceded by the completion of the PGA of America's new headquarters building at the site in the first quarter of 2022. The 500-room Omni PGA Frisco Resort will open in 2023.
PGA Frisco is located at PGA Parkway (formerly a portion of Rockhill Parkway) and Legacy Drive, approximately 9 miles from The Grove Frisco.
This 600-acre development will also include a short course and practice areas, for 45 holes in total. The project will also include an expansive retail and entertainment district, with an outdoor stage for concerts and other activities. PGA Frisco will also have parks, open space and several miles of trails that will be open to the public.
PGA Frisco excavated more than 1.6 million cubic yards of earth – enough to fill 134,000 dump trucks – and added 30,000 tons of greens mix to sculpt the dramatically contoured East and West courses. Fifty acres of wetlands were also created between both courses, and 200 acres of native wildflowers and grasses were seeded.
PGA Frisco will benefit our community's young golfers, partnering with Frisco ISD to provide learning and play opportunities for the district's golf programs.
H-E-B coming to the Four Corners
This fall, H-E-B will open the first of its three new grocery stores near The Grove Frisco's Four Corners location, where our hometown of Frisco comes together with the surrounding cities of McKinney, Plano and Allen.
Well-loved throughout Texas, H-E-B is now expanding into North Texas, and its first Metroplex store will open in Frisco this fall at the northeast corner of Main Street and Legacy Drive. That's less than 7 miles from The Grove Frisco according to Google Maps.
H-E-B designed the store to reflect the unique character of Frisco, with an emphasis on environmental sustainability. The site will feature extensive native landscaping and outdoor community space.
With 111,000 square feet, this flagship store will include a True Texas BBQ restaurant with a drive-through. Texans are serious about their barbecue, so it's good to know that True Texas was named the best barbecue chain in the state by Texas Monthly, and one of the best in the nation by Thrillist.
Additional highlights include a bakery, deli, a Sushiya sushi counter, a Cooking Connection with live demonstrations, a Healthy Living department with bulk foods and nutrition products, a Texas Backyard department for outdoor essentials, and much more.
H-E-B is the largest wine retailer in Texas, and this store will offer an extensive wine selection with a sampling station, along with a large variety of craft beers. The store will also offer H-E-B Curbside and Home Delivery.
Another new H-E-B store planned to open in early 2023 will be even closer to The Grove Frisco. It will be located at the northeast corner of Custer Road and Eldorado Parkway, approximately 2.5 miles from the community per Google Maps.
A third H-E-B store will open in Plano, at the southeast corner of Preston Road and Spring Creek Parkway, in 2023.
Frisco Public Library
Planned to open in the second half of 2022, possibly as early as late summer, the new Frisco Public Library will transform a former rocket factory into jet fuel for readers and learners of all ages.
The new Frisco Public Library is now under construction in the former Beal Building at 8000 Dallas Parkway, about 7 miles from The Grove Frisco. Even before ground was broken, the library won a conceptual award from the Dallas Chapter of the American Institute of Architects.
With the directive to design something "uniquely Frisco," the Gensler architecture firm created a design inspired by the Blackland Prairie environment that surrounds Frisco. The main building will have two entries connected by an interior breezeway, a design inspired by the 19th century dogtrot-style homes that were once common in this region. Outside, large plazas with native landscaping will welcome visitors and provide plenty of space for outdoor programming and activities.
The dynamic new building will have 157,000 square feet, about triple the size of Frisco's existing library. The new building is designed to have multiple flexible spaces that can accommodate library patrons as well as nonprofit groups and business meetings. The children's area will delight young readers with a life-size dinosaur skeleton.
Learn more about what's around our unbeatable location.