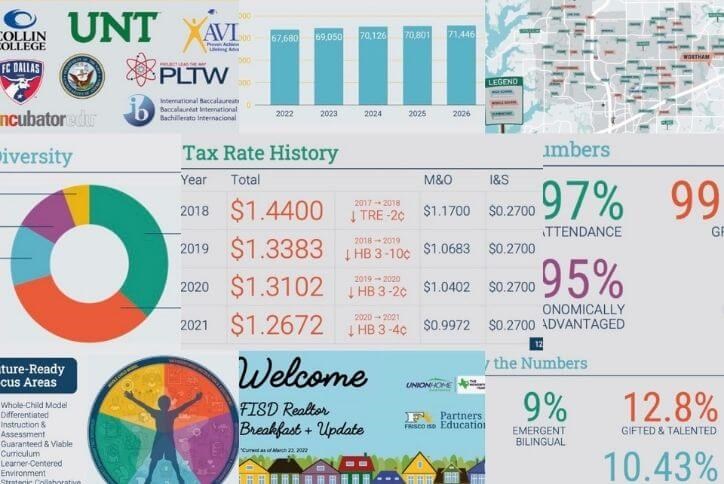 Here's a look at Frisco ISD by the latest numbers
The Grove Frisco is proud to be part of the Frisco Independent School District, one of the most highly rated school districts in North Texas, and also ranking among the top of districts in Texas.
We are also proud to sponsor of FISD's annual Realtor Breakfast & Update, which informed real estate agents on the district's growth outlook, latest accomplishments and student opportunities. Here are some highlights from the update, which happened in late March.
FISD Superintendent Dr. Mike Waldrip and Deputy Superintendent for Business and Operations Dr. Todd Fouche led the presentation. They opened by noting that FISD had four K-12 campuses in 1990, and had grown to 73 by the end of 2021. No matter how much the district grows, one of its guiding principles is still, 'Know every child by name and need."
By the numbers, FISD ended 2021 with 66,009 students and a staff of 8,086. The annual operating budget is approximately $651.3 million. The state accountability rating is A.
The attendance rate is 97 percent, with a graduation rate of 99.4 percent. Students speak a total of 83 languages, and 12.8 percent are in Gifted & Talented programs.
Demographically, FISD is a diverse district with a student population that is approximately 34 percent white, 37 percent Asian, 11 percent Black and 13 percent Hispanic.
For 2022, FISD is projected to have 67,680 students for 2022, steadily growing to 71,446 by 2026.
Dr. Waldrip described the district's emphasis on Future Ready Learners, Educators and Leaders, describing them as individuals who embrace challenges, collaborate, innovate, communicate, contribute and respond.
Dr. Fouche reviewed the district's tax rate history. The total rate for 2021 is $1.2672, representing a decline from the 2017 rate of $1.44.
An update on the 2014 and 2018 bond programs looked at new FISD campuses opening soon, including Panther Creek High School and Minett Elementary School, both opening in August 2022 next to the new PGA Frisco development and The Grove Frisco's sister community, Hollyhock.
Other bond projects include the Visual and Performing Arts Center, now in the design process.
The technology update noted take-home technology for high school and middle school students, and 1:1 classroom technology for elementary schools. The district is also updating its learning spaces with flexible furniture that can be easily reconfigured for collaborative learning and special projects.
Academic opportunities and partnerships available to FISD students were also covered. The district offers academic opportunities with Collin College, the University of North Teas, the Department of the Navy, FC Dallas and the International Baccalaureate program, among others.
FISD has several partnerships with the City of Frisco to provide athletic and cultural opportunities for students, including at Riders Field, Toyota Stadium, Comerica Center, Ford Center, PGA Frisco and Hall Park.
Learn more about the highly rated FISD schools serving The Grove Frisco.