The biggest new thing opening in Frisco in 2023, PGA Frisco will excite even non-golfers
The countdown is on for the May grand opening of one of the biggest developments in Frisco's history: the 660-acre PGA Frisco campus with two championship golf courses, the PGA world headquarters, the Omni PGA Frisco Resort and the PGA Entertainment District.
PGA Frisco will officially open a couple of weeks ahead of its first tournament, the Senior PGA Championship, which will be played on Memorial Day. It is located along Highway 380 and PGA Parkway, just west of Dallas North Tollway and about 10 miles from The Grove Frisco.
PGA Frisco
In 2018, PGA announced it would relocate its headquarters from Florida to Frisco, becoming the first major international sports organization to be based in Texas.
Valued at more than $520 million, the PGA Frisco campus is centered around golf, but non-golfers will find plenty to enjoy as well.
Two 18-hole championship golf courses lie at the heart of PGA Frisco, with the architects sculpting the terrain along Panther Creek to create scenic new wetlands. They also moved tons of soil and sand to sculpt rolling contoured greens that rise above the North Texas prairie.
Almost every square foot of this Texas-sized complex, often called the Silicon Valley of Golf, will be open to the public, including 65% of annual available golf rounds, with discounts for Frisco residents. The courses will also be open to high school students in Frisco ISD, which is a partner in the project. 
Omni PGA Frisco Resort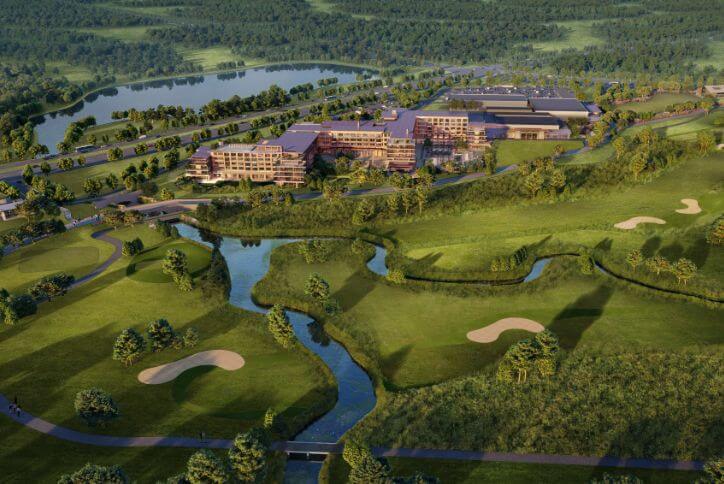 The Omni PGA Frisco Resort has 500 guest rooms, 49 suites (including two presidential suites) and 10 luxury ranch homes tailored for family and corporate group getaways. It also has 13 food and beverage venues such as Trick Rider, a luxury upscale dining spot; The Apron, a three-meal-a-day restaurant; a lobby bar dubbed The Lookout and a coffee market called Toast and Tee.
Meeting spaces include the 22,500-square-foot grand ballroom along with a junior ballroom.
The Mokara Spa is a 15,000-square-foot destination spa with 20 treatment rooms, eight cabanas and a spa pool.
The main building also has two family pools, an outdoor bar and grill, a splash pad and 17 cabanas. The sixth floor has an adult infinity edge pool with a bar and grill and six cabanas.
The hotel has already booked tens of thousands of room stays for 2023, with several months already at full capacity for group bookings. Several thousand advanced bookings have also been made for 2024.
PGA Entertainment District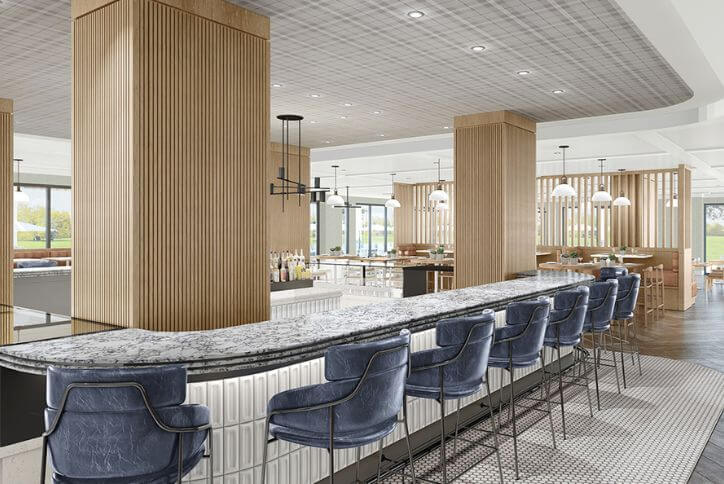 Even more dining and entertainment choices will be available at the PGA Entertainment District adjoining the Omni resort, including a Lounge by Topgolf featuring indoor golf simulators and a full bar and restaurant. More options include an icehouse, outdoor hitting bays and Margaret's Cups and Cones.
The entertainment district also has The Dance Floor, the largest putting green in the U.S., coming in at 800,000 square feet and 200 yards.
There's also The Swing, a 10-hole pitch and putt area with a PGA-operated coaching center providing golf lessons, club fittings and more.
For shopping, there will be nine stores including a PGA retail store, a course pro shop, a luxury toy store and luxury leather goods store.
A 3.5-mile trail hike and bike trail will also wind through the District.
PGA Frisco is just one of many exciting new developments coming to Frisco. See more at our blog.
Images courtesy PGA Frisco and Omni PGA Frisco Resort.