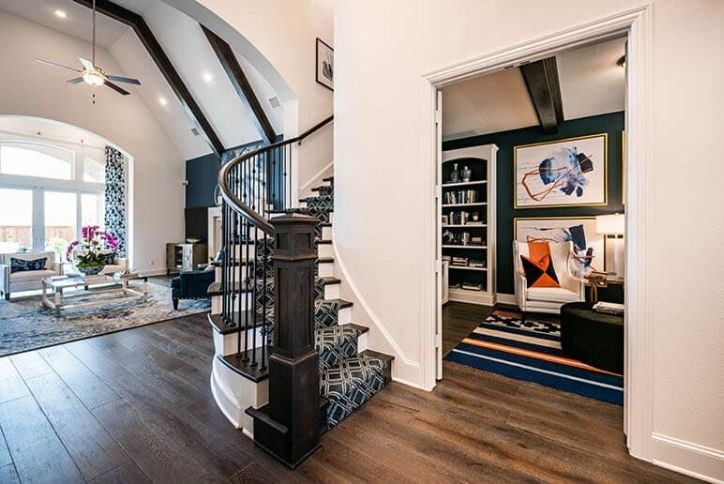 What's new in flooring? Our 2020 "floorcast" has 5 trends to watch
One of the many advantages of buying a newly constructed home is being able to enjoy the latest designs and technological advances throughout your residence.
Perhaps no other surface in the home gives its owners more satisfaction, and more opportunity to express their own personal style, than flooring. That's especially true when you design and build your home from scratch in a community like The Grove Frisco. It's also true when you select a quick move-in home because our builders are incorporating many of the latest flooring trends into their new available homes.
What can we expect to see in flooring in 2020?
Our "floorcast" includes five major trends, which you can already see in many of our beautifully decorated model homes. These trends include wood-look flooring, waterproof flooring, textured finishes, more environmentally responsible choices, and continuing popularity of lighter colors such as grays and blonde tones.
While homebuyers are always looking for something new and different, they also want timeless designs that will look stylish for a long time to come, says Jessica Krystosek, a design consultant with Highland Homes.
"As 2020 starts, we're at the beginning of the 'light' flooring trend," she says. "We are coming out of the gray trend and into more neutral or natural looking flooring. Our decorating preferences tend to change over time, so envisioning a more neutral flooring choice allows buyers to feel the freedom to change their décor through the years, without having to replace flooring in the next 10-15 years due to changing trends."
In addition to lighter colors, here are more trends to look floor-ward to in 2020.
WOOD-LOOK FLOORING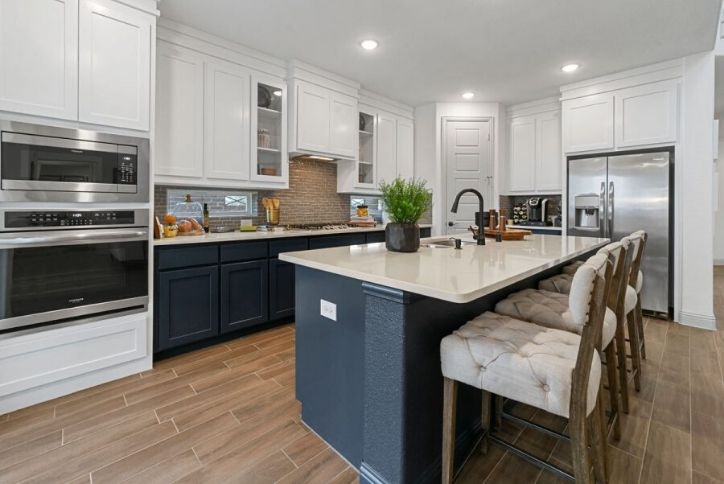 We hear a lot about how the latest technology is filling our homes with conveniences like smart locks, wireless doorbell cameras, and seamless Wi-Fi coverage.
But did you know that we also have technology to thank for the evolution of an age-old material, ceramic tile?
Inkjet technology has advanced so far that manufacturers can create wood-look ceramic tiles that appear so realistic, it's very hard to tell the difference between tile and wood. One designer even compared the advances in flooring technology to the leap from flip phones to smart phones.
You will definitely be able to tell the difference when it comes to maintenance, however, because wood-look tile floors are durable, scratch-resistant and waterproof. This combination of low-maintenance and high-performance is right on trend today. Homebuyers want floors that look great, but they also need flooring that can stand up to their active lifestyles, which include kids, pets and messes.
Krystosek, the designer with Highland Homes, agrees.
"Buyers are concerned with overall flooring maintenance, as we all continue to live very busy lives with children, pets and entertaining," she says. "Buyers are prioritizing maintenance before style, and therefore we see an increase in the use of wood-look tile flooring."
Wood-look flooring began to soar in popularity a couple of years ago, and design experts say the trend has no end in sight, thanks to the beauty and durability of this popular product.
WATERPROOF FLOORING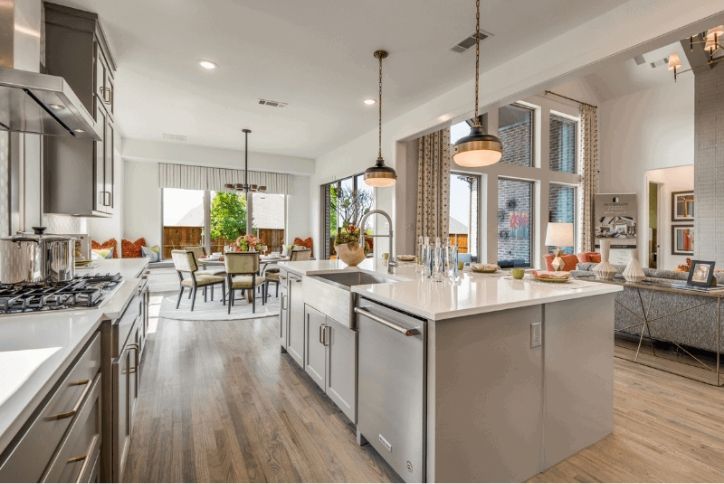 Waterproof flooring is another area where technology is bringing new choices to homebuyers. Whereas laminate and vinyl wood-look flooring used to be viewed as less desirable than real wood or ceramic tile, advancements in printing and engineering technology have made them now a very desirable alternative. And they are still one of the more affordable choices on the market.
Recently, manufacturers have developed vinyl flooring with a 100 percent engineered waterproof core made of stone plastic composite, or SPC. This allows them to create vinyl flooring with a durable, rigid core that is completely resistant to water, and less expensive than solid wood.
Just a couple of years ago, there were very few choices for waterproof flooring, limiting its widespread use in high moisture areas such as bathrooms, kitchen, and laundry areas. Now, designers expect to see more and more realistic looking vinyl and laminate flooring used throughout the home.
TEXTURE TRENDS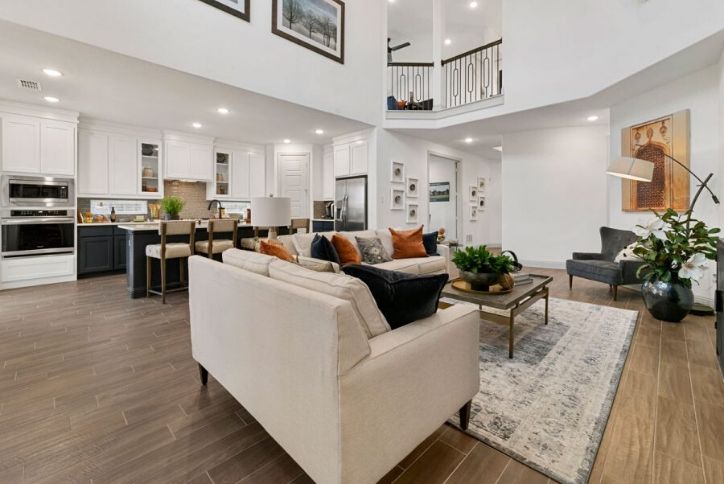 Textured finishes, such as handscraped floors, have long been popular in real wood flooring, lending the floor a reclaimed, rustic look. These textures fit in very well with current preferences for floors that offer loads of character through imperfections and irregularities.
Thanks to technology (again), manufacturers are starting to offer vinyl and laminate flooring products that realistically imitate the timeworn depths and grooves of real wood handscraped flooring.
Popular finishes include the wirebrushed look, which adds a weathered character to the floor without looking too rustic or unfinished. Wirebrushed floors also hide dirt very well.
Distressed and handscraped floors are also trending looks, especially when combined with other décor elements such as brick walls, fireplaces, stacked stone and other looks.
Reclaimed wood textures are also popular, telling a story through knots, nail holes and color variations. You can get authentic reclaimed wood flooring that has been used before as barn wood or pallets, and you can also find realistic looking wood-look flooring with reclaimed textures.
ENVIRONMENTALLY RESPONSIBLE
Eco-friendly options in flooring are also trending, as we all become more aware of the environmental impact of our choices. Cork and bamboo are popular green flooring choices, made from sustainable and renewable resources. Marmoleum, a natural linoleum flooring product, is also a popular choice. Both durable and sustainable, Marmoleum is made from components including wood flour, limestone, pigments and Jute.
Using reclaimed hardwood floors from old buildings such as gymnasiums and commercial structures is another way to go green, saving this beautiful wood from the landfill and reducing the production of new materials. Carpets made from recycled materials such as plastic soda bottles are actually at the forefront of the eco-flooring boom, but that's another story.
PERSONALIZED OPTIONS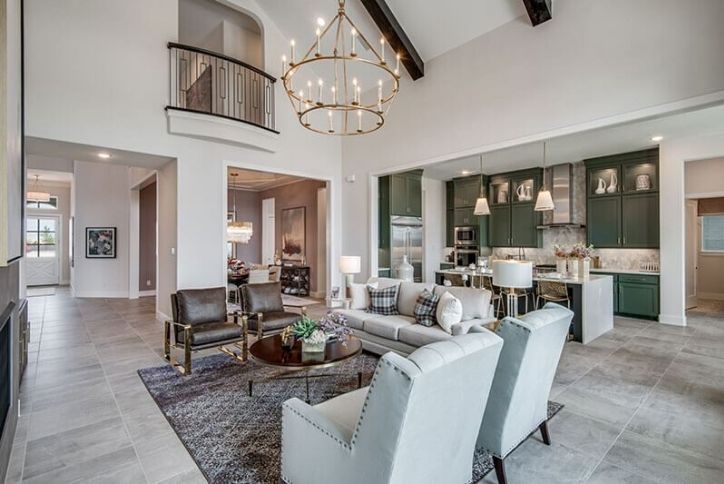 Today's homebuyers are embracing flooring products that allow them to add a personalized touch to their new homes.
There is a strong trend toward wider planks in both hardwood and wood-look floors, with widths now up to six to eight inches. Varied length planks are also available, with lengths from 24 to 48 inches. Variations in both width and length help to give floors a less uniform, more individual feel.
Herringbone and Chevron patterns are showing up everywhere, whether they are used for a small accent area in a larger room, or used for an entire room, such as a study or dining room. Laying wood planks on a diagonal is another popular look. When done right, these patterns can add a touch of boldness and character to any room.
"Regardless of the price range, all buyers today want the opportunity to customize their home," says Krystosek. "Patterned tiles with geometric designs allow buyers to layer in a small yet impactful detail.  We don't see this used on a large scale, but instead in small areas of the home such as the kitchen backsplash, a powder bath, or the laundry room.  These areas are a smaller yet safer place to have some fun with the bold or subtle patterns."
Explore all new home plans available in The Grove Frisco, and finish it off with the floor of your dreams.