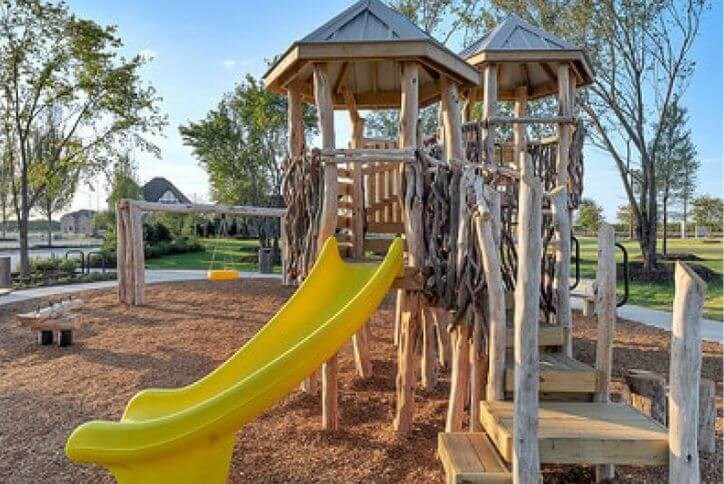 The Grove Frisco turns 5 – see how we've grown since 2018 and what's to come
It's hard to believe, but June 23 marked the five-anniversary of our grand opening festivities in 2018, when we invited hundreds of guests to help us celebrate the completion of our first model homes and amenities including Orchard House and Adventure Park.
Fast-forward five years, and it's amazing what we've accomplished with the support of our residents and our builder and real estate agent partners. Best of all, we have a brand-new phase of development opening later this year, bringing hundreds of new homesites and some exciting new amenities.
Here's a quick look back at our first five years, and a preview of what's coming soon.
Nearing 1,000 families
More than 900 new homes have been sold in The Grove Frisco since 2018, and we're looking forward to celebrating our 1,000th new-home closing.
Right now, some of builders only have a few homes available, but that will start to change beginning this fall, when more than 65 new homesites will become available in our final new neighborhood south of Main Street. This will include 65-foot-wide homesites for American Legend and 74-foot-wide homesites for Highland Homes.
In 2024, our major new phase located north of Main Street will begin to open a wide variety of homesites and price ranges from our best-in-class builders. Like the rest of our community, this new phase will be part of the highly regarded Frisco Independent School District.
Some of our best availability right now is for our luxury low-maintenance townhomes and cottage-style homes, with both neighborhoods located close to Orchard House and other amenities.
New parks
Our flagship amenity, Orchard House, was completed in time for our 2018 grand opening, to show our earliest residents our vision for an active, connected community. Our earliest amenities also included miles of trails, and parks such as the Gartner Bark Park, Butterflly Park, Bluestem Park and Adventure Park, featuring a one-of-a-kind playground designed especially for us by Asheville Playgrounds.
Some of our newest parks have recently opened or are coming soon, including Puppy Prairie, our second dog park, along with Hideway Park, Shady Grove Park and Central Park.
Our new phase north of Main Street will have approximately 10 new parks and 2 city parks, including a new community center.
New shopping
The Arbors on Custer, our first onsite shopping center, is a village-style collection of retail buildings with a carefully selected roster of tenants focusing on food, fitness and well-being.
Located along Custer Road, between Gartner Road and Rolater Road, The Arbors on Custer has architecture that blends in with the residential character of The Grove Frisco.  It's connected to the community via thoughtful extensions of our trail system, and onsite parking is also provided.
Some of the food and beverage tenants now open or coming soon include Spoon + Fork Thai Kitchen, PJ's Coffee, Shipley Do-Nuts and Morning Bliss Café. Services include CJJF Jio-Jitsu, Passion Health, Sankalp Realty, S2S Functional Performance, Image Salon Suites and Serenity Salon. Lake's Little Scholars Montessori is a great complement to our Frisco ISD schools.
Awards
We're proud that The Grove Frisco has earned some very prestigious awards in our first few years, including Single-Family Development of the Year and Single-Family Developer of the Year from D CEO magazine.
The Dallas Business Journal named us Best Residential Community, and the Dallas Builders Association awarded us Developer of the Year, Best Community Amenity and Best Realtor Promotion.
Most recently, the City of Frisco has designated us a Five Star Neighborhood, recognizing how our HOA works to maintain our community to the highest standards.
Lifestyle events
Since our 2018 grand opening, residents of The Grove Frisco have gathered for hundreds of other events, from major festivities such as the annual Color Run and Spring Fling, to smaller meetups such as Parents of Preschoolers and cultural cooking demos.
Meet our friendly and creative lifestyle director, Stephanie Metts, and take a look back at some of our past event highlights.