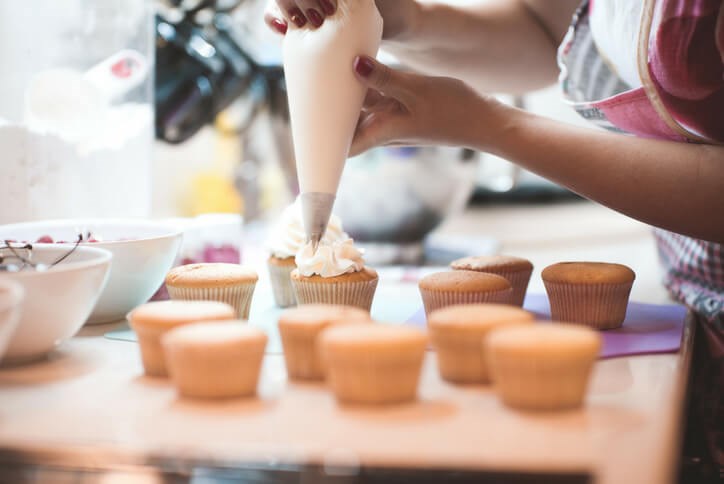 Swirl Cafe & Bakery offers homemade goodness inside Orchard House
The Grove Frisco's location at the "four corners" where Frisco, Plano, McKinney and Allen meet puts residents within minutes of a virtually limitless selection of cafes, restaurants, bakeries and more.
Residents also enjoy a very special cafe right in the community, Swirl Cafe & Bakery at The Grove Frisco.
Located inside Orchard House, our flagship amenity, Swirl Cafe & Bakery serves breakfast, lunch and desserts daily, for residents and visitors alike.
Their extensive breakfast menu includes breakfast croissants, breakfast tacos, French toast, omelets and oatmeal. At lunch, they offer a delicious array of sandwiches, salads, quiches, soups and more. Favorites include the Finger Sandwich Plate, with three different finger sandwiches and a choice of fruit or salad. Bistro salads, including Blueberry Thrill and Strawberry Walnut, are also popular.
There's also a kid's menu with Mac N Cheese and PBAB (Peanut Butter & Apple Butter). And because "bakery" is part of their name, expect to find a mouth-watering selection of sweets including cakes, muffins, cookies, cupcakes, petit fours and pies, all fresh-baked daily. 
The Grove Frisco is a new location for Swirl, a family owned and operated eatery well-known in its nearby hometown of Flower Mound.
Swirl takes pride in offering scratch-made, home-style sweets and savories, with a warm and friendly vibe. That makes them the perfect partner for The Grove Frisco, where our founding visions include crafting an intentional, engaged community that provides residents with many opportunities to get to know each other and become lifelong friends.
Swirl Cafe & Bakery will be one of the most tempting reasons for residents to visit Orchard House, whether it's meeting for lunch, enjoying a refreshing snack or drink after a swim or workout, or grabbing a coffee to go as they head off to the playground.
As The Grove Frisco grows, we envision that Swirl Cafe & Bakery will offer its popular take-home meals for residents, as it does at its original location. They will also offer food and drink specials during future community events, such as movies on the lawn and live music concerts in the park.
Orchard House also includes the Visitor Welcome Center for The Grove Frisco, so home shoppers can take a refreshing break and literally taste our lifestyle as they look for the perfect new home.