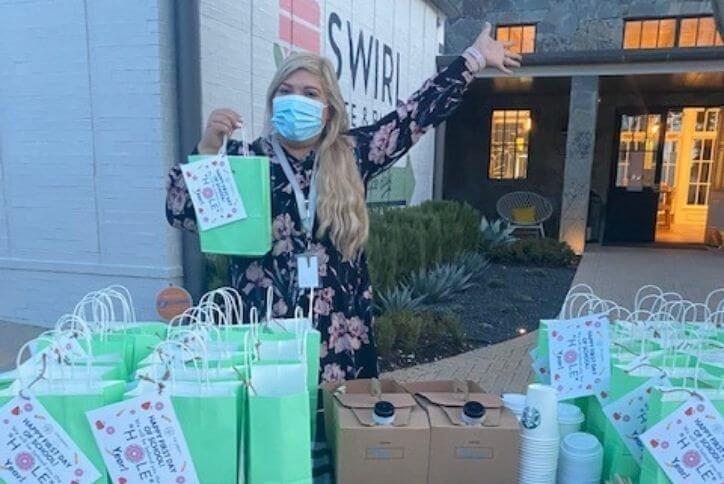 Resident events keep The Grove Frisco connected, even with social distancing
On the first weekend of fall, residents of The Grove Frisco gathered at Orchard House to celebrate the season with apple cider, apple pie, caramel apples and funnel cakes.
The main difference from a traditional fall festival was that these tasty treats were pre-packaged for residents to grab and go, with a socially distant pick-up station set up on the event lawn next to Orchard House.
This may not be the ideal way to celebrate as a community, but it's a great example of how The Grove Frisco's Lifestyle Director, Stephanie Metts, has come up with safe and creative ways to help residents keep connected until the pandemic recedes.
Stephanie, who joined The Grove Frisco in February, had to adapt fast.
"Within a week or so after I started, we planned out a whole year of events, but when the pandemic spread, we had to put plans aside and think outside of the box," she says.
If anyone was up to the challenge, it was Stephanie, whose background includes special event planning for Kendra Scott's North Texas division, and for Venture X, a co-working company for businesses.
"I love planning special events and seeing them become reality," she says. "Moving from the corporate world to the residential community of The Grove Frisco, it's been wonderful to see new neighbors become friends, even during this time of social distancing."
One of the first socially distant events was a Celebration Caravan, a community-wide parade with decorated vehicles celebrating birthdays, anniversaries and other special occasions that residents wanted to commemorate. The Easter Bunny joined the Caravan as it made its way through the community.
In May, residents celebrated Cinco de May with margaritas, chips, salsa and queso from Blue Goose Cantina, served to-go from Orchard House. A mobile DJ added to the festive vibe as residents came by to pick up their delicious goodies.
When students headed back to our Frisco ISD schools in August, families picked up goodie bags filled with donuts and juice boxes in front of Orchard House. There was also fresh brewed coffee to give parents an extra boost of energy.
Several events have brought food from some of Frisco's most popular restaurants and food trucks right into the community. A Food Truck Brunch in August featured Waffle O'Licious, and another event offered Sushi Dojo. Ice cream and shaved ice trucks have also come out, along with a roving bubble bus.
Technology has lent a helping hand, with apps that allow residents to track the trucks as they progressed through the community, so they could meet them right outside their front door or wave as they passed by.  
Technology also allowed residents to gather on Zoom and take part in a wine tasting class. Residents ordered wine samples and picked them up at Orchard House, then met online to compare tasting notes with the help of a local expert.
There have also been scavenger hunts where residents looked for transplanted trees and teddy bears, with gift cards awarded to those who found the most. There was also a contest to see who could build the best backyard play fort, along with a Chalk the Walk event to spread encouraging messages.
Dogs were part of the fun, too. A Bark at the Park event held at the community's Gartner Bark Park featured gourmet treats and toys for four-legged family members.
The Grove Frisco has even brought some of its community spirit out into the larger Frisco community, such as when residents dropped off gift cards at a contactless donation station at Orchard House. The cards were then delivered to frontline workers at Baylor Scott & White Medical Center – Frisco, along with cookies, donuts, coffee and beer.
Ever since the vision for The Grove Frisco was on the drawing board, resident events and activities have been considered an important part of crafting a neighborly and engaged community. Even our amenities were designed with social connection in mind, from the event lawn and pavilion at Orchard House, to parks like Hammock Park and Butterfly Park.
With faith that things will return to normal, our future plans call for more social amenities, including a park with a pavilion designed for outdoor movies and concerts. Until then, our Lifestyle Director Stephanie will continue to help make sure that The Grove Frisco remains a neighborly and connected community, even with social distancing.