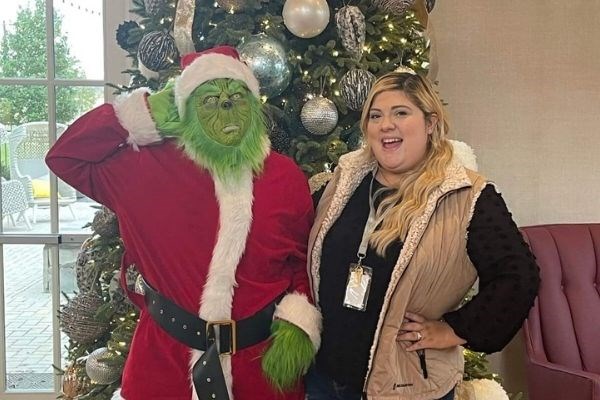 Meet Stephanie Metts, The Grove Frisco's Lifestyle Director
Anyone who has ever met Stephanie Metts, The Grove Frisco's energetic and irrepressible Lifestyle Director, wouldn't be surprised to learn that she loves to perform standup comedy and karaoke.
Stephanie devotes much of her energy to making The Grove Frisco a connected and neighborly community, planning events for residents of all ages throughout the year. She personally attends most major events, helping to make sure that even the newest residents feel at home right away.
Stephanie is now coming up on her second anniversary as our Lifestyle Director, and she has a full and exciting calendar of activities planned for 2022, including fun St. Patrick's Day and Easter events at Orchard House.
Stephanie joined The Grove Frisco in early 2020, just weeks before the spread of the COVID-19 virus led to a national quarantine. She quickly pivoted to create an innovative calendar of socially distant events that would help residents stay safe yet connected, such as roving food trucks, parades, scavenger hunts, goodie bags to go at Orchard House, and contests such as Chalk the Walk.
Now that life is mostly back to normal, Stephanie is relishing her role as The Grove Frisco's connective social tissue. It's a job she has prepared for throughout her career.
After graduating from The University of Texas at Dallas with a degree in marketing, she interned with the social media team at Southwest Airlines and was soon hired as a permanent employee. It was at Southwest that Stephanie developed her love for watching and performing standup comedy, and this busy mom of a three-year-old son hopes to return to the comedy scene some day.
Stephanie went on to work in special event planning for the North Texas division of Kendra Scott, an Austin-based national jewelry firm. After that, she did marketing and event planning for Venture X, a co-working company and event venue with several Metroplex locations.
A native Dallasite, Stephanie moved to Frisco two years ago to be closer to her husband TJ's extended family, which relocated four households from the Chicago area to take advantage of Texas' low taxes and other advantages.
"I love Frisco and it's easy to see why so many families are moving to The Grove Frisco. It's a wonderful community in the heart of everything Frisco has to offer," she says.